In this era, many men dare to try different haircuts with various colors. Blonde hair is the most popular choice for men. It looks stylish and is fun to use. If you don't have naturally blonde hair, you can dye with different blonde hair colors.
Consider the natural color you have before choosing the blonde color. Get inspired with the following blonde hairstyles for men we've compiled for you.
Best Blonde Haircuts for Guys
Here is a curated list of some very hot blonde hairstyles. So, if you are a guy with blonde hair, try these for your next haircut.
Zayn Malik haircut is the new haircut in the fashion industry. Especially for men with blonde hair, this hot hairstyle can do wonders to your look.
The cut has uniform hair length all over. The hair is horizontally cut short into straight bangs. Blonde color can highly accentuate the style.
2. Long and Messy Blonde Tips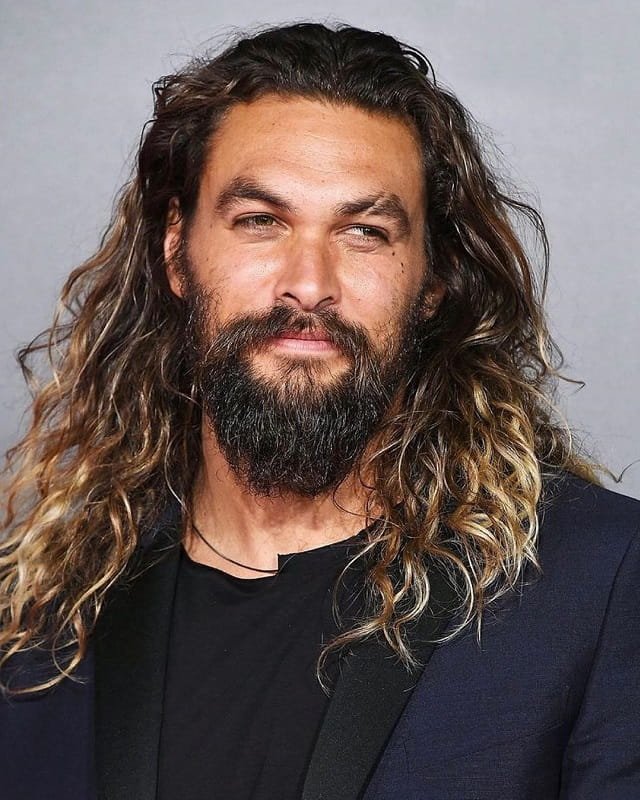 Jason Momoa has successfully stolen the hearts of many by playing Khal Drogo in Game of Thrones. His hot looks have a huge fan club. Long and messy hair with blonde color at the tips make his signature look. This long hairstyle is an easy-to-get and does not require too much maintenance.
3. Straight and Sleek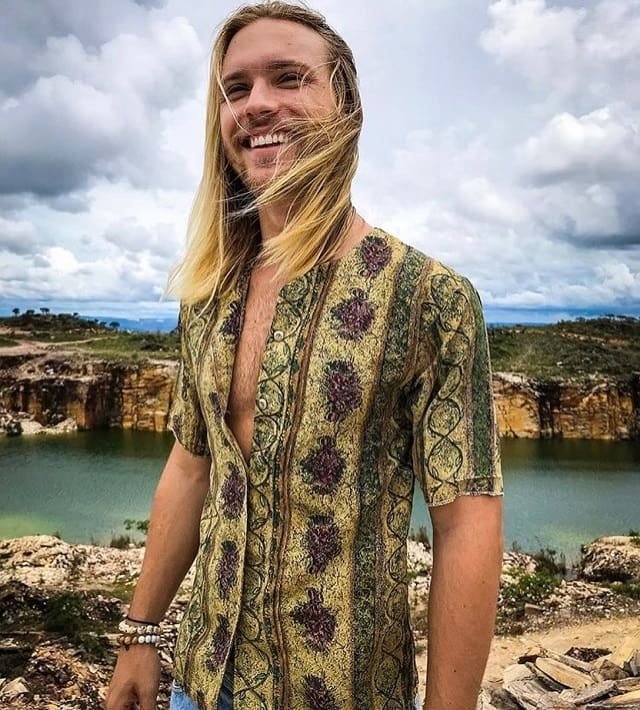 If you have long, straight, sleek and blonde hair and you are waiting for a cool look, we have good news for you. You don't need to spend too much time or money on your hair. Just comb them smooth and use a good-quality hair tonic for shine and smoothness.
4. Loose Comb Back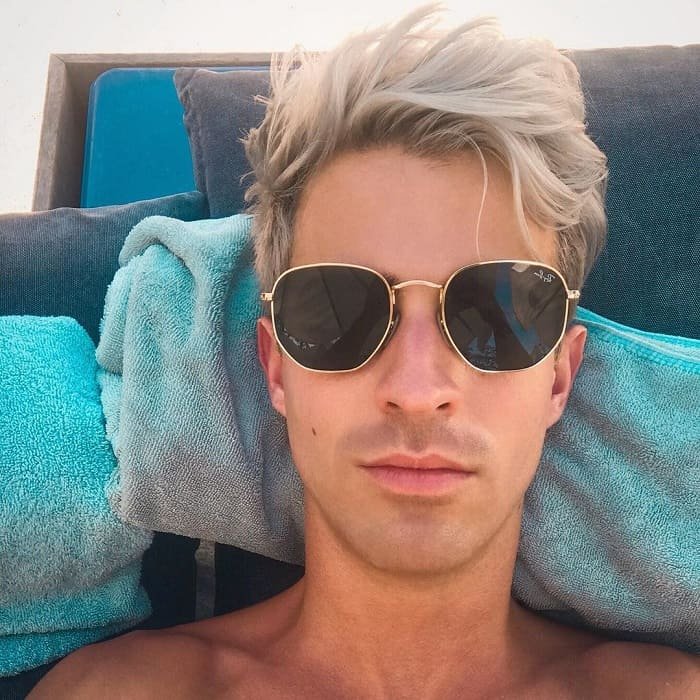 Loose wavy comeback hairstyle is not too shabby to have! It is a beach look which can slay all the chics out there. To get this look, loosely comb your hair back and leave them free.
You can use hair gel to hold your hair in place or go without it. So, what are you waiting for? Get started with your blonde hair have this sexy hairdo.
5. Undercut with Contrasting Lengths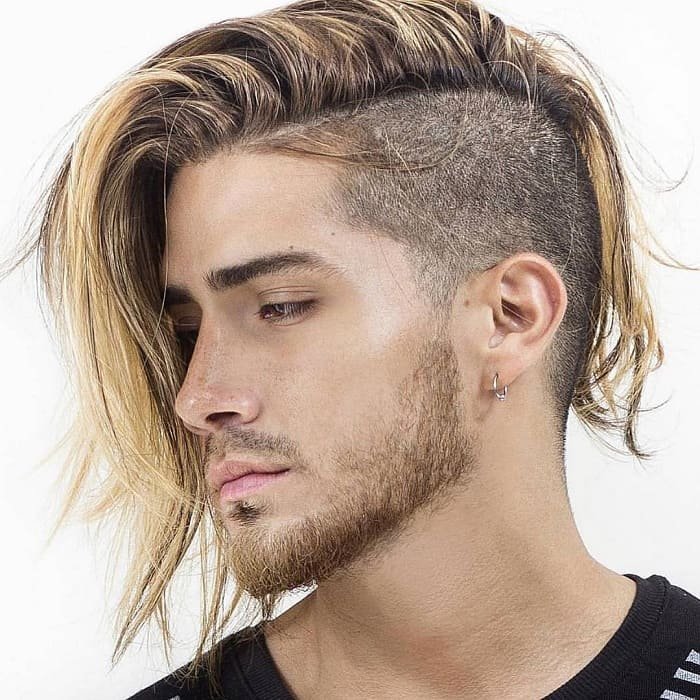 Undercut with contrasting lengths is a very bold look to carry. This hairstyle is for high-school teenager boys. For this look, get a finely shaved undercut on one side and ridiculously long and blonde hair allowed to fall on the other side and back of the head. This is an entirely casual look.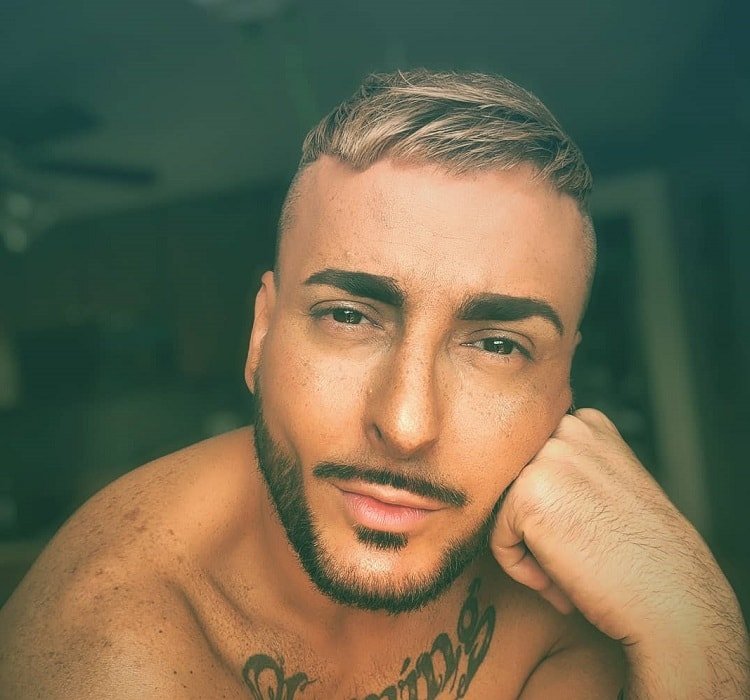 If you are looking for a neat and easy to carry hairstyle, this style is a good option. For this look, tell your hairstylist to shave your sides finely leaving relatively longer hair on the top drawn into a short fringe. Blonde hairstyle with a black beard will make a very appealing contrast.
7. Messy Curls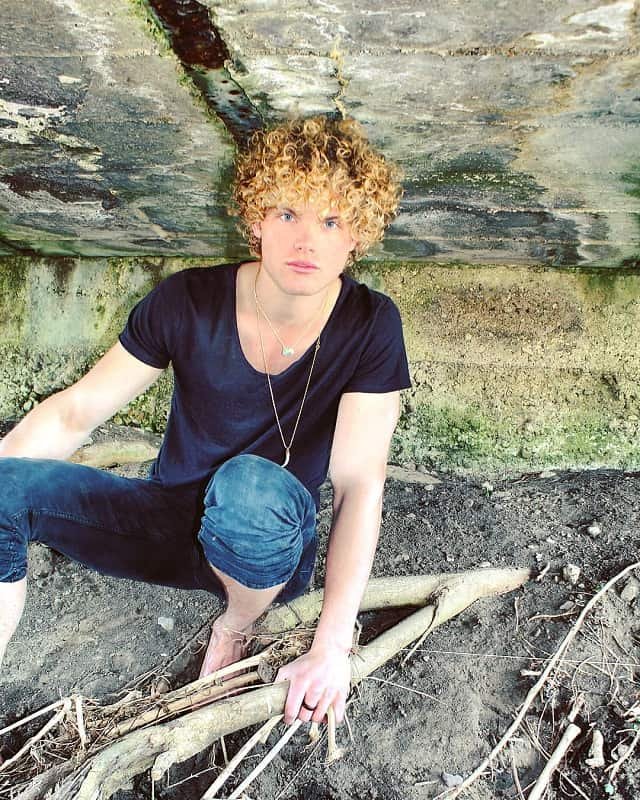 Make your head banging experience even more bouncy with this curly hairstyle. If you have loose and blonde curly locks with a congested look, you can make a style statement out of them. Keep your hair to medium length and leave them messy to get this look.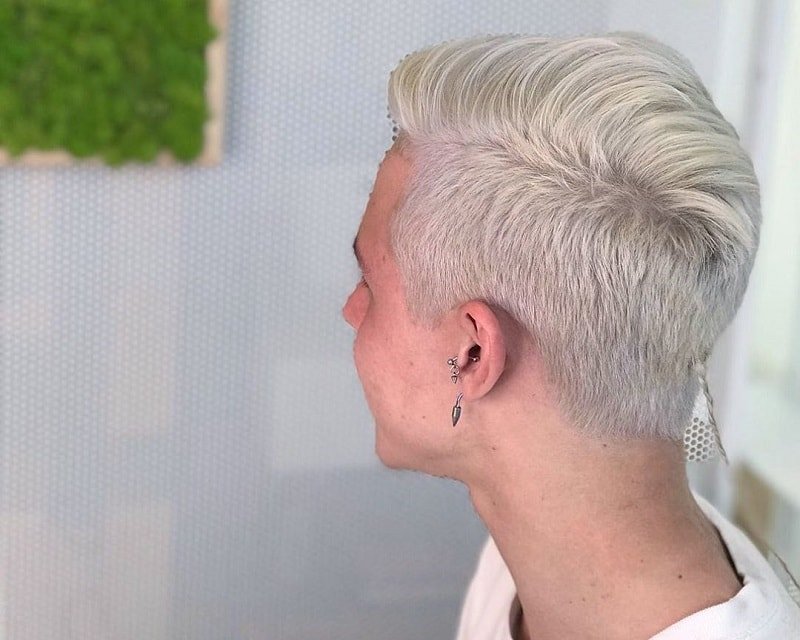 The side part is one of the most decent hairstyles for men to have. If you have blonde hair and want to look decent yet stylish, this short straight hairstyle is good to go. It is very simple to make and a low-maintenance one. Use a good hair gel to hold the style in place.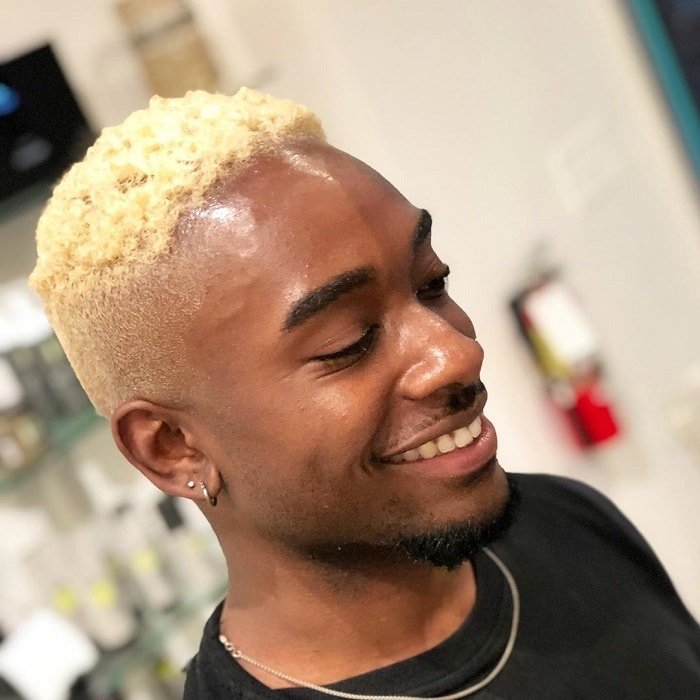 Shaved blonde afro is something you get to see very less. However, this is a very cool look for black men with blonde hair to carry. For those having an unruly afro, this style will make life easy for them.
Get your sides shaved into a taper fade haircut or as you want, leaving the top afro comparatively longer. Contrasting blonde afro with a black beard is a look worth carrying.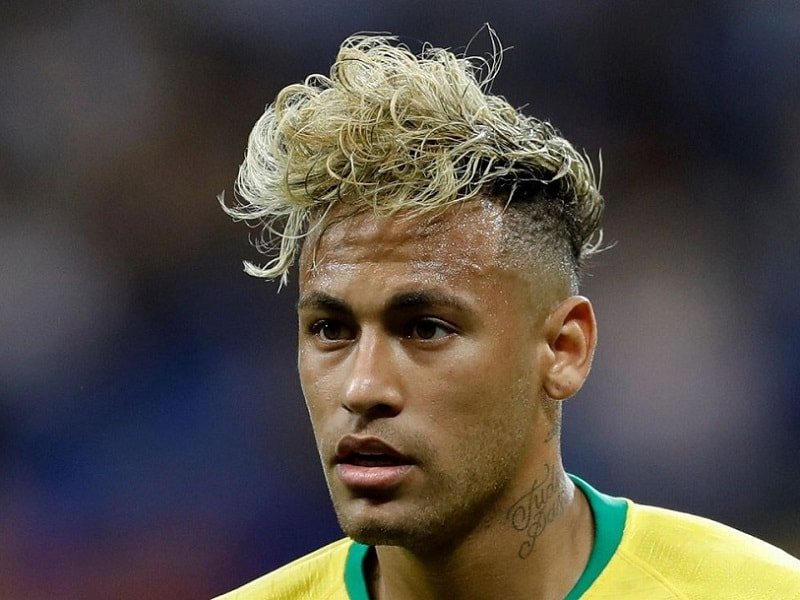 Neymar's spaghetti blonde hairstyle has created a buzz among his fans. To get this look, tell your stylist to finely shave your sides leaving your front locks a bit longer and tangled for a spaghetti touch.
11. Javi Look Kinky All Around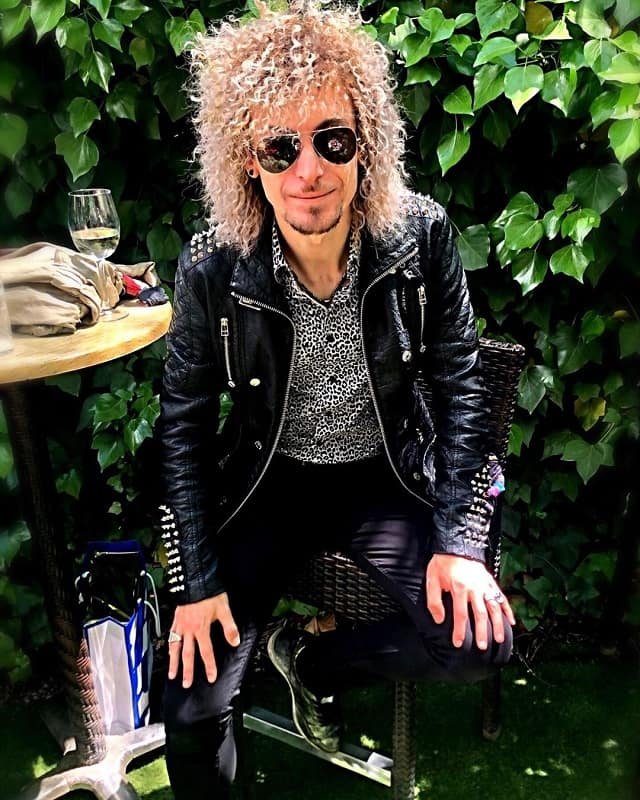 Javi's hairstyle is a model look for blonde men with kinky hair. Hair kept to the shoulder length and kinks barely kept with relatively shorter bangs falling on the forehead is what this look is all about. Use a good quality hair mouse for added bounce.
Mohawk is a highly trending hairstyle among the style freaks. Blonde haired guys can pull this style even better. Tapered sides and long mohawk top held with good quality hair gel make up for this style.
13. Billy Idol's Porcupine Hair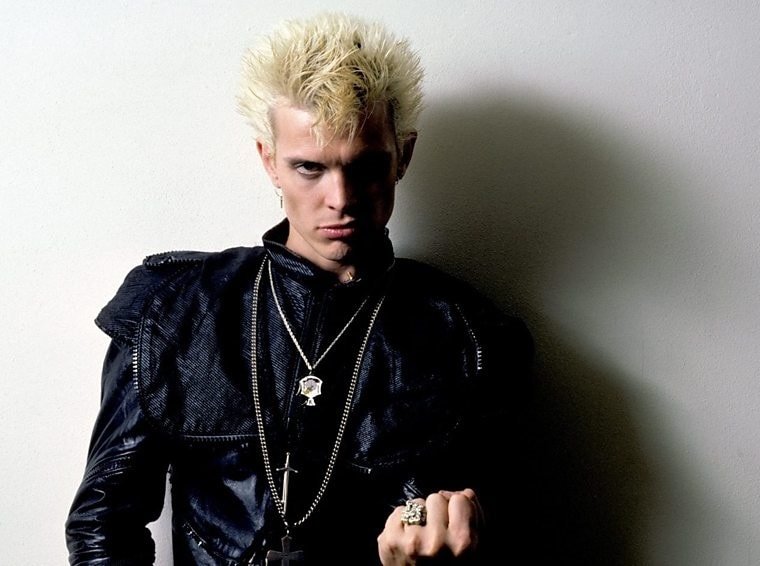 Billy Idol's porcupine hair is a popular cut. This blonde haircut is best for those who want a dangerous and wild look. Tall porcupine spikes with receding temples and front fringe are what this look is based on.
Amazing Mini Dreads Hairstyles for Men
14. Messy Fringe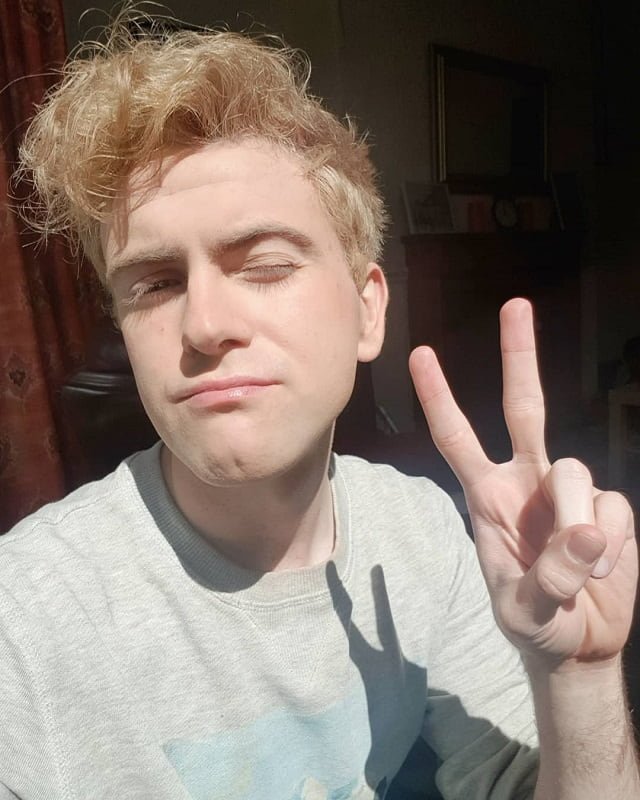 If you have messy blonde hair, we have got a look for you. Have a haircut with contrasting lengths keeping the top locks relatively longer and messy. This is a look of minimalists for style.
15. Volumized Messy Curls
For those with volumized blonde and messy curls, improvisation for style is the most creative look they can come up with. Keep your hair length up till ears and leave your curls loose and messy. You can use a good quality mousse for added bounce and effect.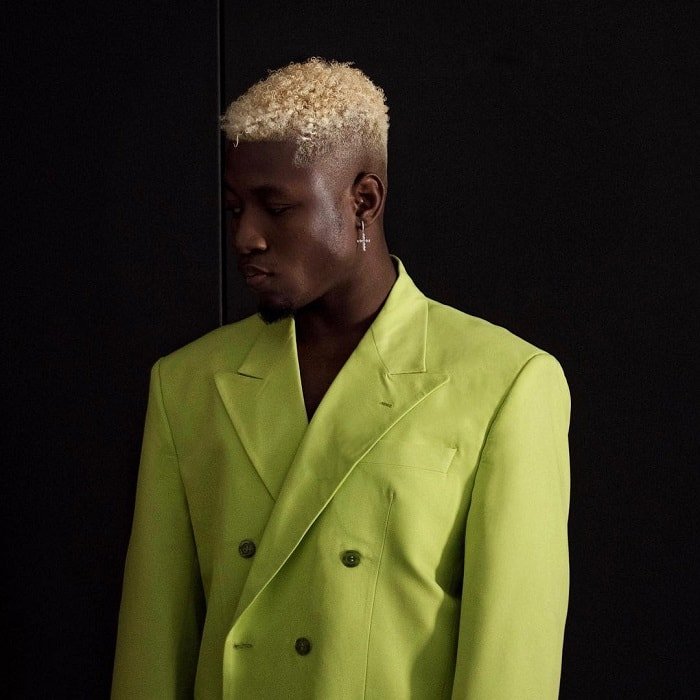 Tight curls are difficult to handle. This hair look is ideal for black guys with tight curls and if you are a blondie, the look will go a long way. Skin shaved sides with short top curly hair make this look. You can carry this style wherever you want, casual or formal.
If you are a minimalist man and want an easy-to-maintain hairstyle, this blonde hair look is a perfect choice. Cut your hair to equal length all over with a texture, like beach waves, added to top hair. Blonde hair gives an accentuated look to the style.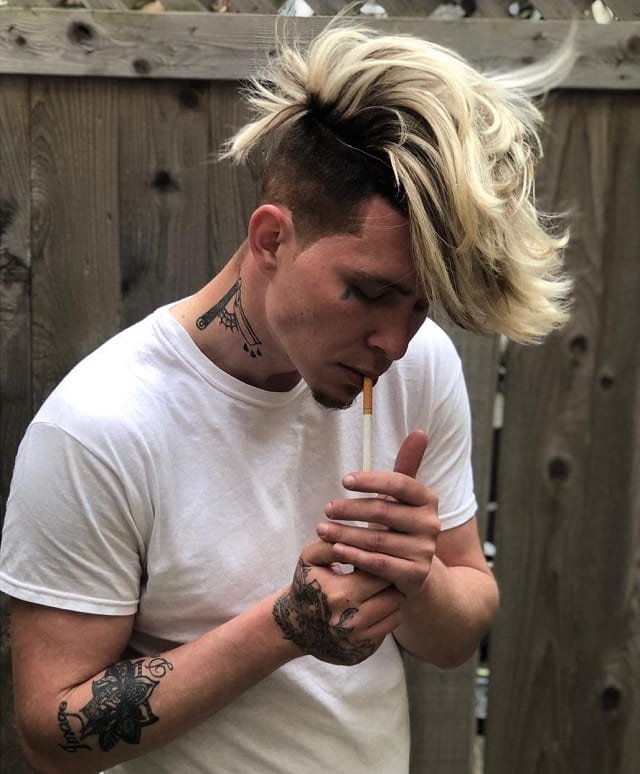 Here comes another look for blonde men with contrasting lengths. Not only the lengths, but the blonde top locks are also contrasted with black shaved sides. The ridiculously long and straight top hair looks more like a mohawk and left free to flow.