Braids come in different shapes and sizes, but what we love the most about them is the fact that both men and women can rock them. Not only are they trendy, but braids are also practical.
Men often think that all braids are the same, but that's not quite correct. Throughout this post, we're going to take you through top braid styles for men that you can emulate.
Best Braids Hairstyles for Men
With braids, you can achieve any effect you want. Braids can be elegant, edgy, casual, wild, and you name it. Ideas below will appeal to men with different styles and preferences. Scroll down to find perfect man braid inspiration for your hair.
1. Unique Patterns
Thick hair has a lot of volumes, but it's difficult to control them. The goal is to opt for hairstyles that will allow you to keep hair strands under your control in order to prevent damage.
You also need a hairstyle that is easy to create and pull off. Men braids check all the boxes. If you like a little bit of flare in your hair, unique patterns with braids are a great choice.
2. Braids with Fade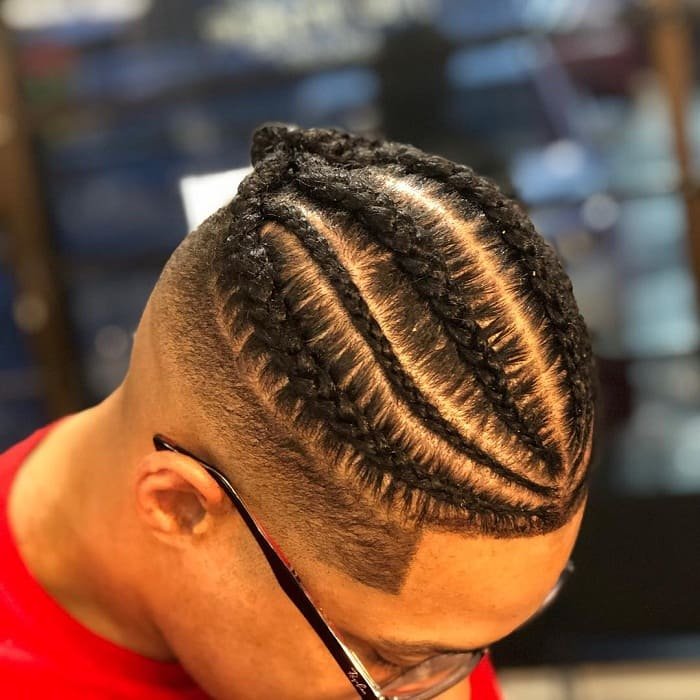 What low fade and braids have in common is that both styles are versatile, and it's easy to incorporate them into any look, regardless of your styling preferences.
If you're looking for a way to subdue your thick hair, you may want to consider getting braids that will merge into a tiny man bun at the back. Finish off the look with low fade.
If you're not a fan of Mohawk, you can still create a top braid without it. This time, the braid will be bigger and more noticeable, but also unique.
4. Thin Cornrow Braids
Braids aren't reserved for men with long hair only. They can look just as good with shorter and mid-sized hair as well. You can easily pull off the look from the photo  – create short braids using all your hair and shave the sides off.
Braid styles for men are numerous, thus giving you the opportunity to try different things in order to determine what works for you best.
For example, you may want to opt for super slim braids that fall down your face and head for a super casual effect.
Now that you've seen 5 ideas of braided hairstyle, you probably have some favorite options that you'd like to try. Go ahead and do it. Keep in mind that braids for men are incredibly sexy and tough at the same time.