If you're looking for a classic and timeless hairstyle, the men's side part haircut might just be the right haircut for you. It's a very conservative and clean haircut but also a great business professional hairstyle. The modern version of the side part haircut is a wild and looser variation of the classic but it is 100% handsome. Moreover, it looks great on the red carpet, but you don't have to be a movie star to make it work.
Lets' steal the style!
You have to start with the men's side part haircut, the back and sides should be shorter than the top, but not in a drastically trendy way. When you've nailed the haircut, it's time to pick up some products.
For thin or normal hair, a pomade offers both shine and pliability. For thick to medium hair, a gel may be better able to tame your tougher locks. Apply the product of your choice evenly throughout damp hair after a shower. Find your natural part by brushing your hair forward, shaking your head lightly, and noticing where the hair starts to separate. Then simply comb the sides down, and push the front slightly back and over to the side.
Job done, you are a handsome devil!
Expert advice: Keep two products handy at home: 1 shiny and the other more matte. This way you can alternate between a more casual, relaxed look during the day and a shine for the evening. For a more relaxed feel once you've combed the hair, run your fingers through it to break it up a bit and introduce a little texture.
The side part hairstyle has been a mainstay in hairstyles for men since the '40s—long so here is your chance to share the cool look with your grandpa or dad.
Check out our examples of men's side part haircut below:
Side Part With Fade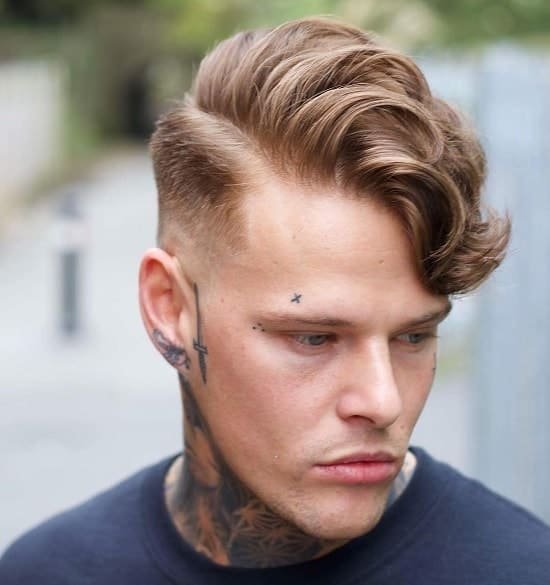 The side part is an incredibly classic look, which has been modernized with the addition of a fade. The addition of the fade also makes this look perfect for men with rounder faces as it helps the face seem narrow.