The goal of this article to show you how to train to slick hair back and what products to use for this classic hairstyle. Slicking the hair in a backwards fashion has been in vogue for over 100 years now with the invention of pomade and other hairstyling products that fixed the hair.
Slick hair back mens short hairstyles should not make you look wet and greasy. So many men commit this hair blunder for being too enthusiastic about the hairstyling products. They realize too late that they have put on too much when their hair looks like it's dripping, or they end up looking like they just stepped out of the shower. You want something that looks soft and natural, with just the right amount of shine.
It does take a little more time and effort than a tousled dirty-wax hairstyle, but with technique and lots of practice, this can be absolutely do-able, but let's cover some of the ground rules first.
Consider your hair texture
If you have fine hair then you can use hair gel, if your hair is thick then you might need to use pomade, if coarse hair you need to use hair wax.
Which type
There are so many types of slick back haircut so you just need to choose yours.
Slick hair back ponytail
Slick hair back pompadour
Slick hair back comb over
Slick hair back mohawk
Asian slick hair back
Slick hair back side part
Undercut or fade
Is your hair the right length to slick back, do you need to have undercut slick back or slick hair back with fade?
What do you need to have to achieve the slick hair back men's long hairstyles:
Wide toothed comb
Large paddle brush
Good hair care products
The slick hair back certainly does look fancy, but it's not a complicated hairstyle to achieve.
Begin with your hair fresh from the shower; it is most pliable at this state. Towel-dried until it is very slightly damp.
Blow-dry the sides of your hair closer to the head for a slim, sleek profile. Comb the hair down and back, and follow the motion with the hair dryer. Repeat until dry.
Take time to blow-dry the top portion of your hair that falls right opposite the part: this section will carry the most weight.
Now it's time for gel or pomade. Rub the product thoroughly between your hands, and carefully shape your hair the desired way.
Run fingers through the top about ten seconds after spraying it. It gives pencil-straight hair a bit of texture and it makes for a bit of a controlled messy look.
To finish it off use a glossing serum. Rub a squirt or two vigorously between your palms.
If you want to keep the style in place all day, you can apply a little hairspray as well. The result is a slick hair back hairstyle that looks soft, natural, and stylish.
Here are a few tips:
If you have really thick hair, you want to put pomade in once you've towel-dried your hair.
If you have hair that lays flat on your head, apply pomade when it's dry, and it'll get some lift.
If you have fine or really thinning hair, it might not be the best idea – it'll either look wet or show your scalp.
How to slick hair back with curly hair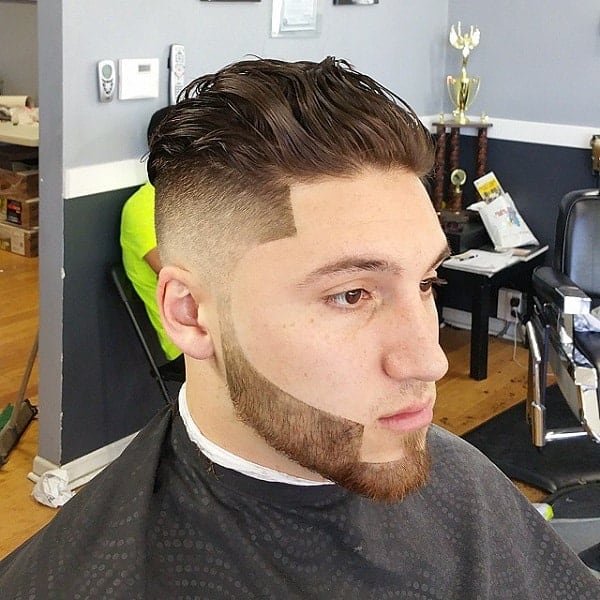 Slick hair back men's hairstyles are also possible on curly hair and there are great to wear to keep the volume looking nice and manageable. Just get the right amount of pomade on the hair and start combing it back away from the face. Make it as high as you want, or as flat as you want. Keep it smoothed and polished, or make it just a little bit messy but styled.
Top 7 Slick Hair Styles