The temple, or temp fade, is a cool fade that includes an impressive shape around the men's temples. This has become incredibly popular recently because it offers men so many different choices of cuts and styles when they are choosing their new look.
Coolest Temple Fade Haircuts
Since there are so many different options when looking for a temp fade cut, men must decide what style will look best on them. Here we have 30 options to make it easier to choose.
1. Fade with an Afro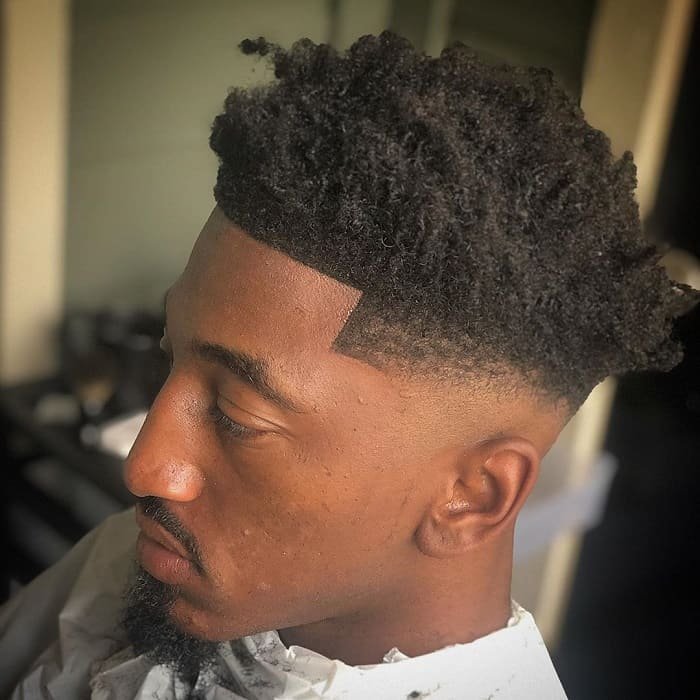 One of the most popular types of fade haircut is a temp faded Afro. This look allows a man to enjoy a little more volume on the top of his head, which can help to balance out a small beard or uneven features. Opting for this style allows men to enjoy the natural feel and appearance of their hair.
2. Intricately Braided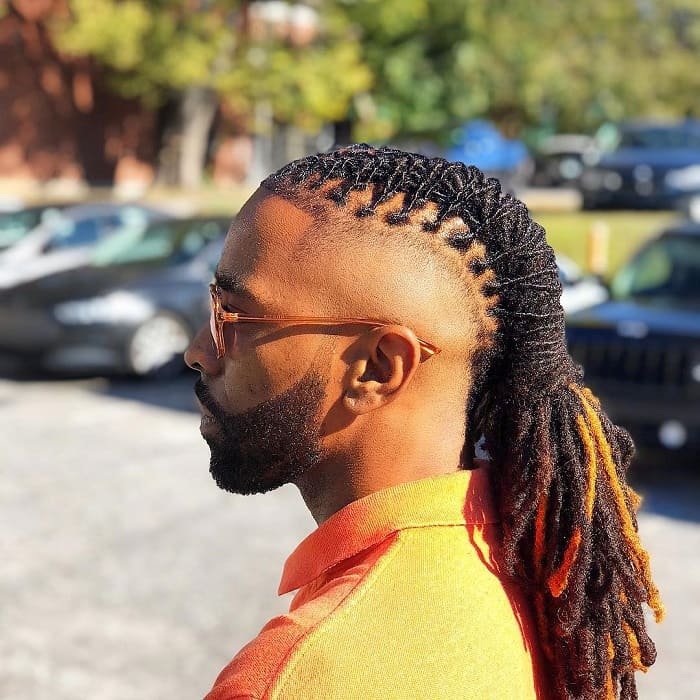 There's no reason why a fade can't be beautiful, as seen in this rich and intricately braided style. Lots of smaller braids are joined together with dreads to create a gorgeous and impressive look. Adding some color to the hair is another amazing way to ensure that this look stands out from the crowd.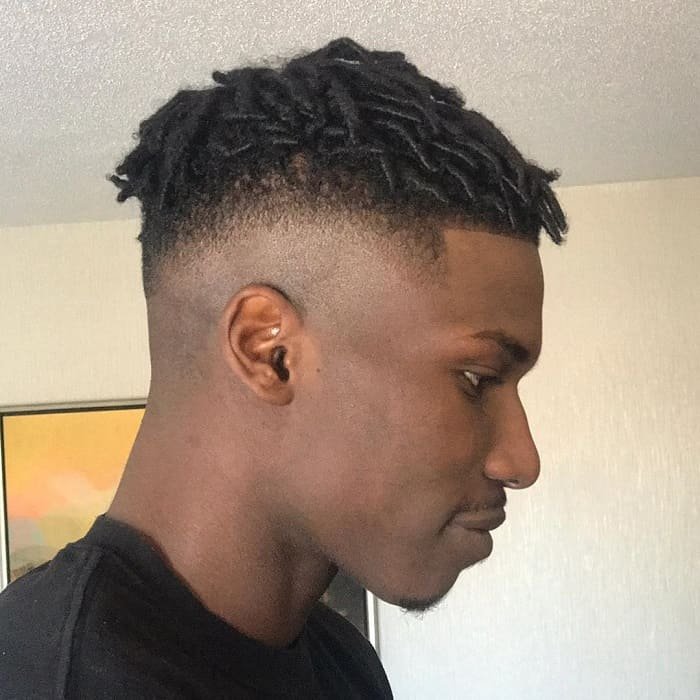 It's a great option for men who want something a little more subdued, but still, want to show off the volume and the movement of their hair. Keeping the dreads shorter and keeping the Afro under control creates an interesting look.
4. Thicker Curls with Beard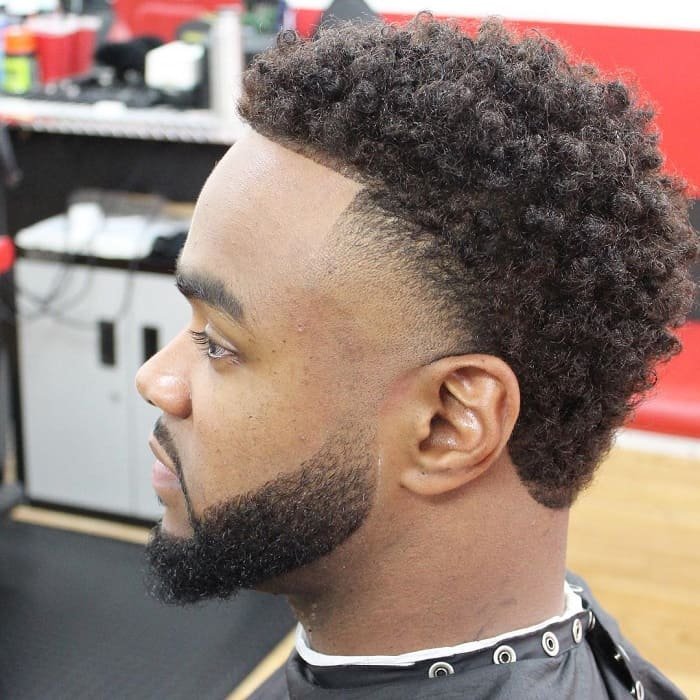 This is a great look for any man who wants an Afro and isn't afraid of having a little more volume in his hair. The looser curls are gorgeous, and since they are held in place by strong lines around the face and forehead, this look doesn't ever appear like it is out of control, making it a great option for dating and the office.
More natural hair has a lot of volume and movement, which gives this low temp fade haircut an exciting and fun appearance. It's sure to attract attention anywhere the man must give thanks to the fun style and how much body and movement the hair has. This look is great on younger men who don't need to worry about fitting in at the office.
6. Thick and Beautiful Twists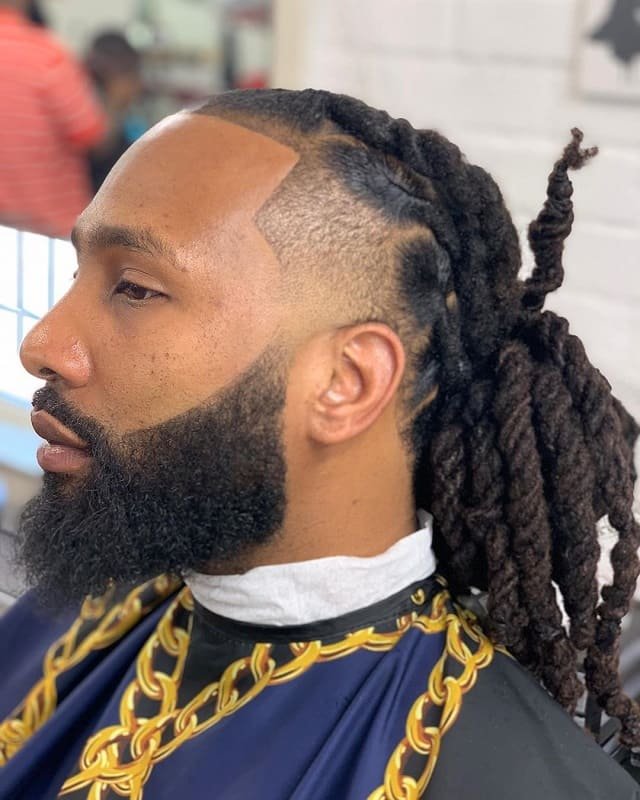 Men who want a fade haircut that is anything but boring will love the way they look with these thick and rich twists on their head.
They add so much body to the head and are twisted in thick sections, ensuring that the man looks like he has a full and impressive head of hair. The exposed skin on the temple is an incredible contrast to the twists.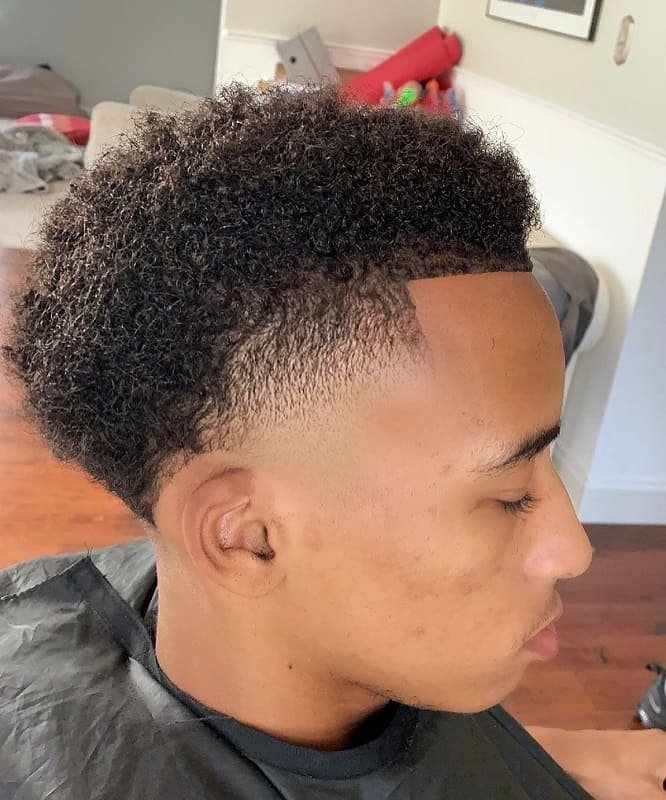 Not all men have curls that curl perfectly and lay in ringlets, but that doesn't mean that they can't have shorter hair and a fade.
This is a great temple fade that allows the hair to rest naturally and doesn't require the hair to be in tighter curls to look amazing. The thicker hair looks healthy and clean, making any man feel great.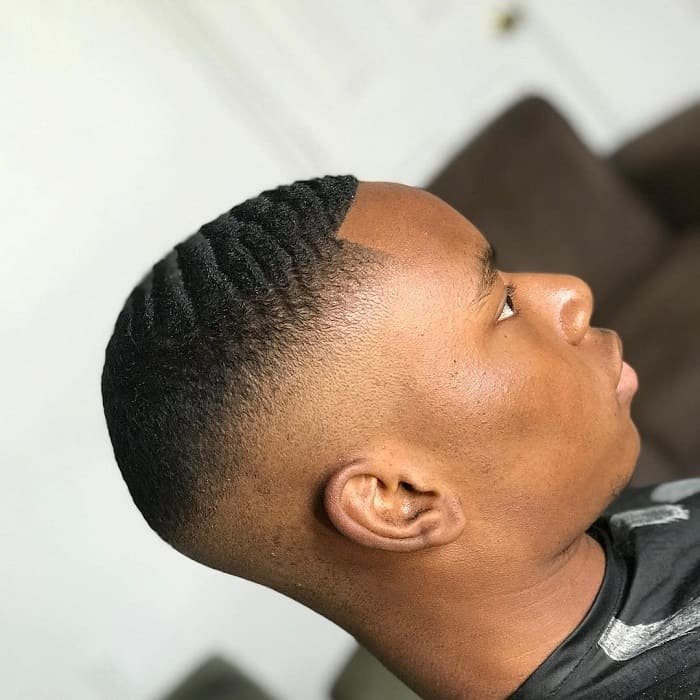 Wavy hair can be difficult for some men to style, but not when the hair is cut very short and close to the head. Then it is much easier to style, as the hair can be included in a fade.
This fade on temple adds a lot of interest and straight lines around the front of the head and the face, allowing the movement in the waves to really pop.
Even with a great low fade around the temple, there isn't any reason why the back of the head must be exposed. Keeping some hair on the back of the head ensures that this part of the body isn't cold and is a fun and updated look compared to other types of fades.
10. Longer Locks on Top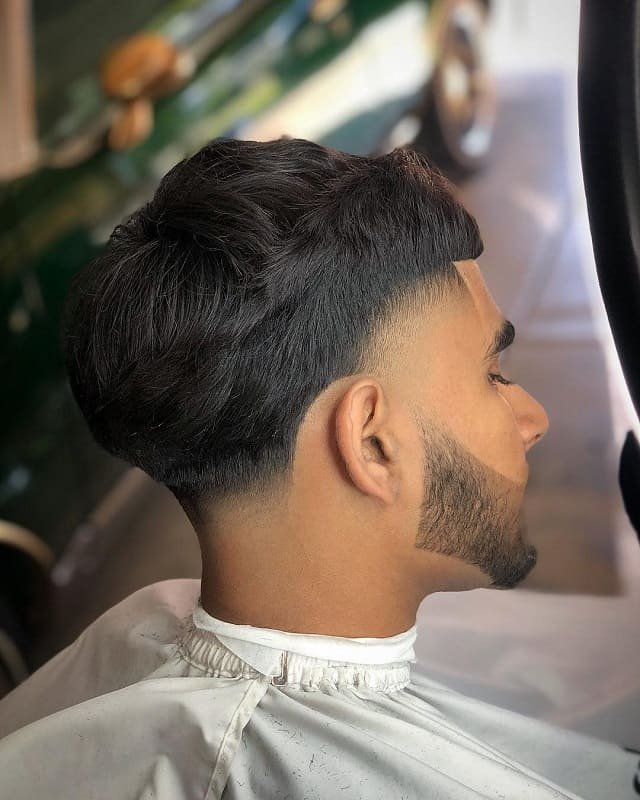 While most people think of fades as being used with shorter hair, this look proves that long hair can look amazing. The hair has a lot of movement, thanks to great styling, and appears full and rich. Strong lines around the face help to offset this movement.
11. Clipped Shorter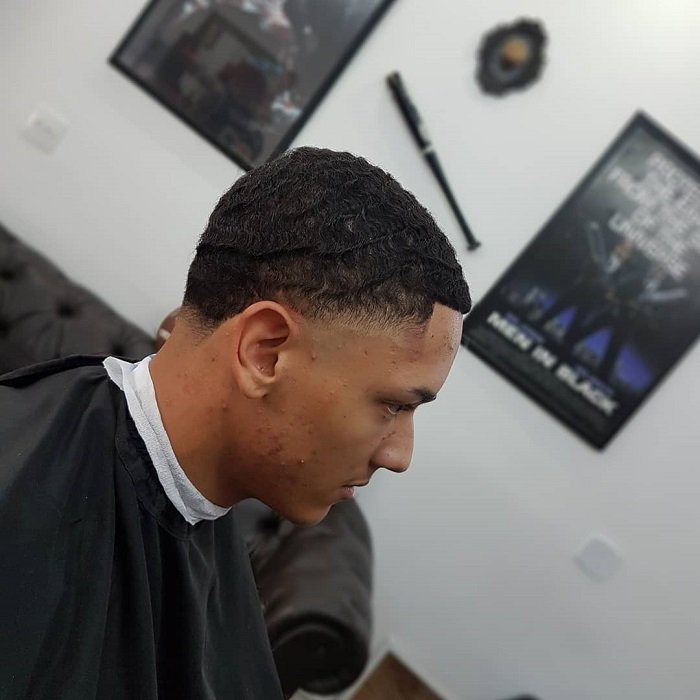 Men who want hair that doesn't require a lot of work in the morning to ensure that it looks great will love this shorter style. Clipping hair shorter on the head allows men to choose to style it or leave it natural, which is great for men who need to be out the door in a hurry every single morning.
12. Small Fade Over The Temple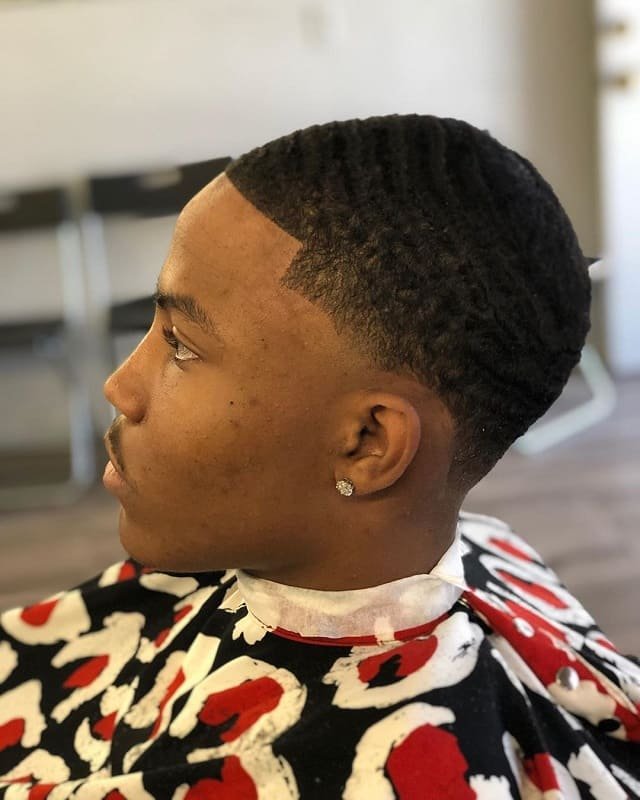 A low fade is a nice change of pace from some more intense fades that can sometimes be a bit overwhelming. A strong bang line, as well as a little bit of a fade around the temple combined with a trimmed beard, create an interesting look. This is a great option for men who aren't afraid to take regular care of their hair.
13. Highly Angular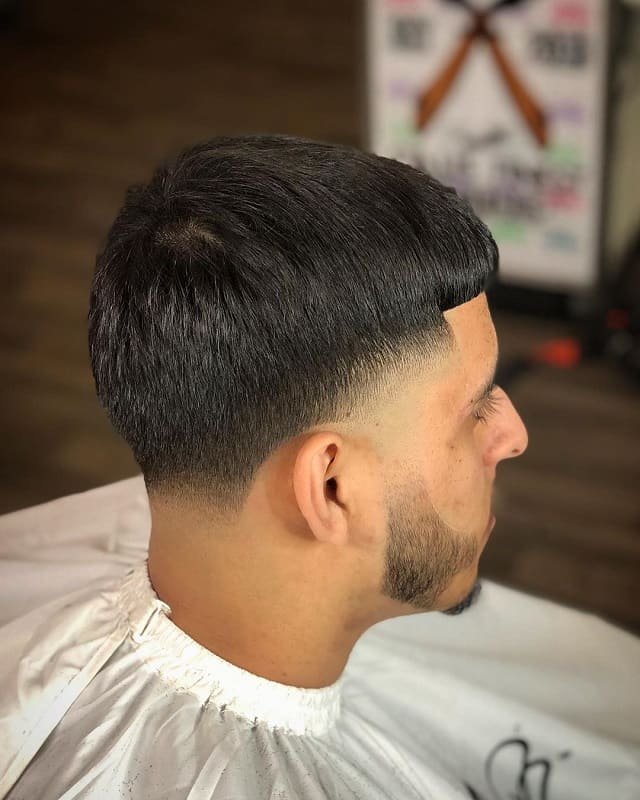 There's no reason why a faded temple hair has to be parallel to the ground, as this fun look shows. The sharp angle of the fade from the forehead to the ear and then to the back of the head creates a line that the eye wants to follow and helps make the style have a little more movement.
14. High on the Forehead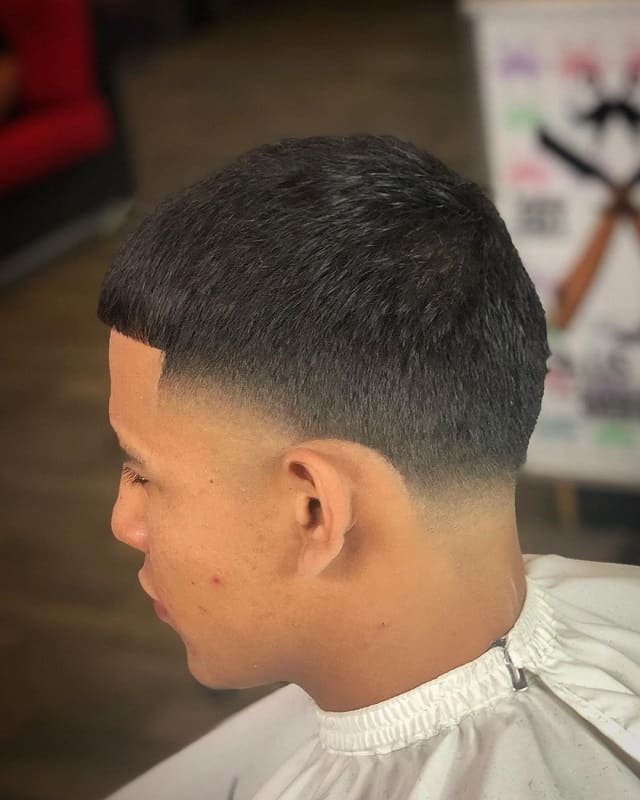 Men who aren't afraid to show off their foreheads will love this higher look and the way that it shows off their face. It's a great option for any man who knows that his eyes are his best feature and aren't afraid to wear a shorter cut that will allow them to really pop.
15. Curly Top Knot

A cloud of hair that rests on the top back of the head is an eye-stopping end to this great fade. The loose curls and soft appearance of the hair are an incredible contrast to the sharper lines on the forehead and will attract a lot of interest.
While it may not be the ideal cut for every man, but on the right man it can be a true show stopper and will attract a ton of positive attention.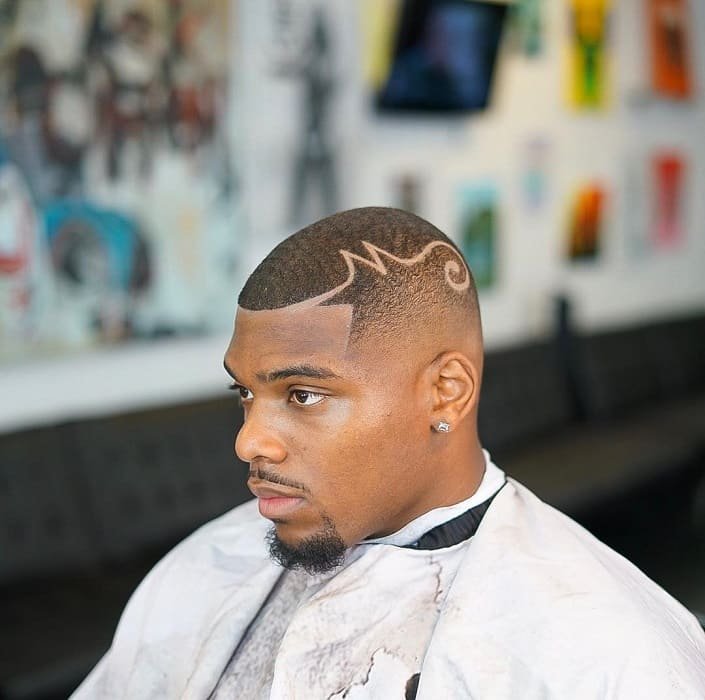 One of the best and fastest ways to add a lot of interest to a fade in a very short period of time is with some lines cut into the hair. These zigs and zags are both curved and angular, creating an interesting look that is fun and unique. Of course, it does require regular upkeep to continue to look its best.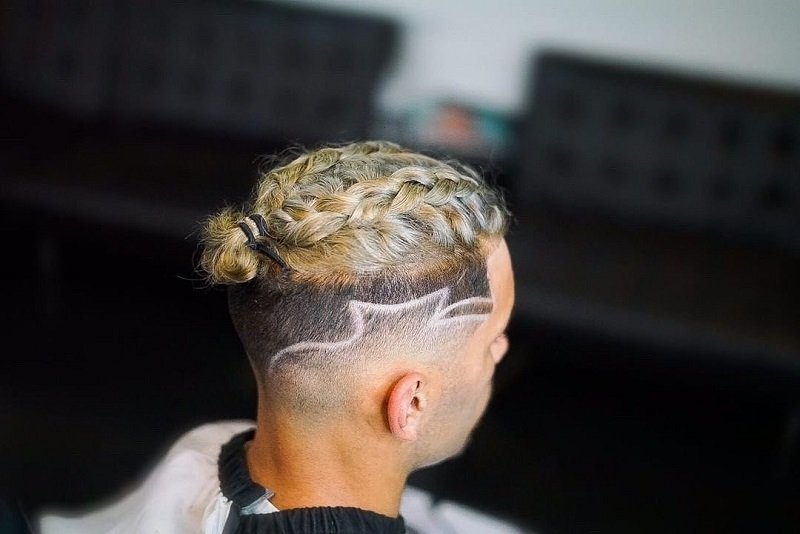 A blonde braided top that is full and long is a great contrast to lines cut into the side of the fade. This look is unique thanks to the inclusion of so many different features, including longer hair, bleached blonde color, and perfect lines.
18. Full on Top
A temp fade cut that allows the full hair on the top of the head to be rich and lush really helps to show off healthy locks that look amazing. The movement of the curls and waves in this cut prevent it from being boring and ensure that the look is healthy and fresh.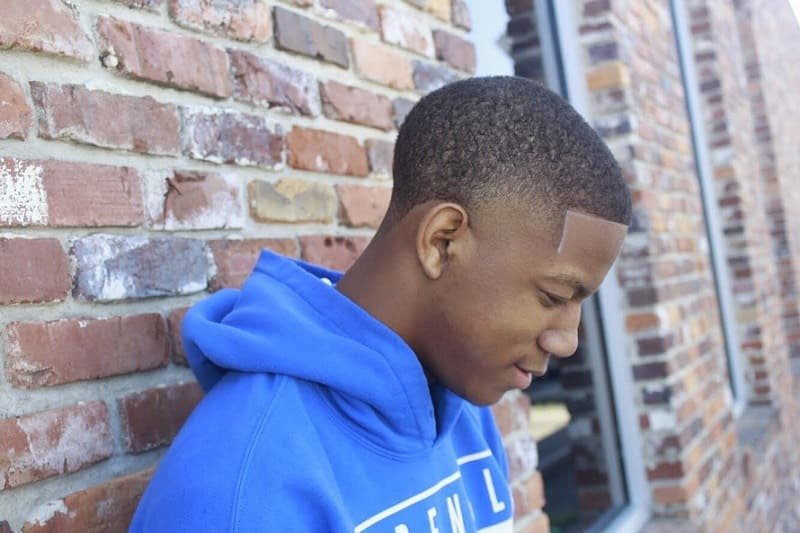 Adding in some skinny sideburns is a great way to update any fade and can easily be done by a professional. This look is great on younger men who aren't sure if they want to fully commit to a fade without any hair around their ears.
20. Right Angles on the Forehead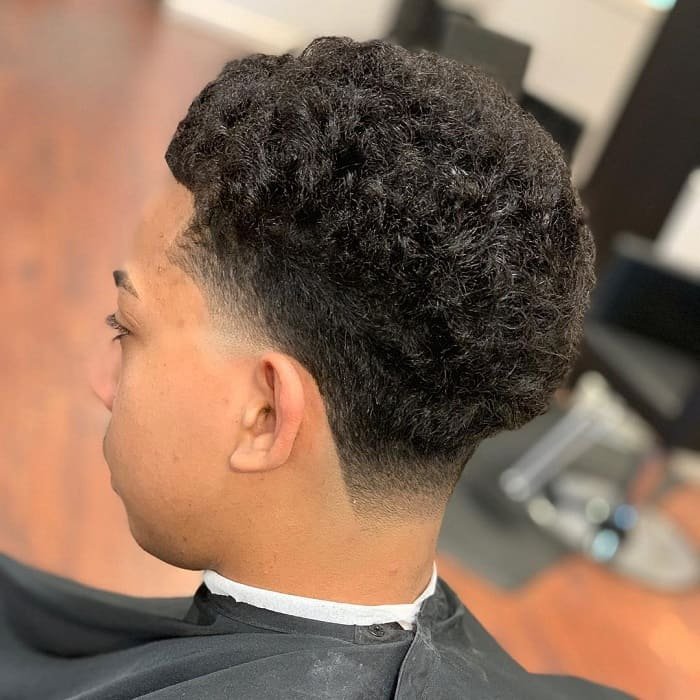 The right angles on each temple help to focus attention on both the cut of the hair, as well as the man's eyes. It's a bold look that doesn't work for everyone but is a great way to add attention to an everyday fade.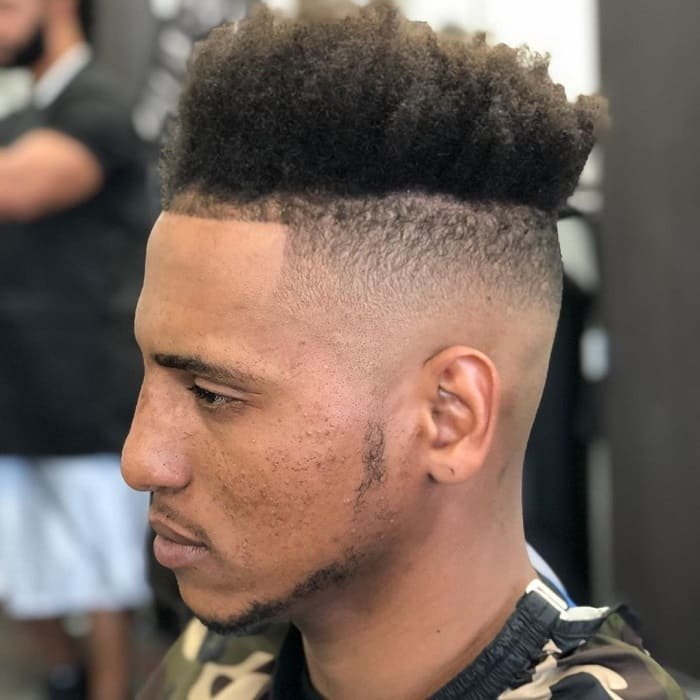 There is a lot of volume on the top of this style, which helps to easily offset the shorter hair in the fade. The hair on top of the head looks full and rich thanks to the natural curl, and the way that it sticks up from the head allows it to be the real focal point of the style, without letting the style look boring.
22. Cropped Close with Waves
One great way to add a lot of interest to a fade is to allow the hair on top of the head to have some movement. This temp fade with waves hairstyle does just that by allowing the natural motion of the hair to come through in the cut.
Thanks to the way that the waves are formed in the hair, it looks clean and flowing, even though it has sharp edges.
23. Full Behind the Ear
A great fade can leave some hair behind the ear, allowing the medium fade around the temple to become the real star of the show. This is a great hairstyle for men who are interested in fades but haven't yet committed to something a little more drastic.
24. Faded into the Beard
Men who have a beard and want to ensure that their whole style works together will want to consider allowing their beard and their hair to fade into each other. This fade on the temples and on the sideburns helps connect the beard and create a cohesive look.
A swooping line that follows the side of the head looks natural and attractive and is a great way to delineate between the top of the head and the fade above and behind the ears. This strong line needs to be kept clean so that the look doesn't start to appear messy.
26. Topped with a Man Bun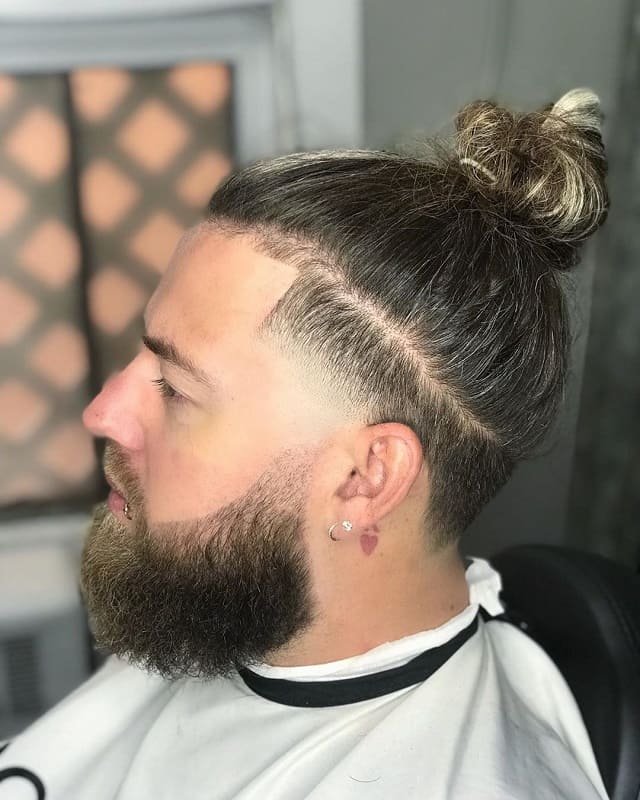 A great fade looks amazing when it is topped on the back of the head with a bun. Longer hair pulled up and out of the face and off of the sides of the head allow the beauty of a great fade to easily be seen. This is a great look for men who want the best of both shorter and longer hair.
27. Just in Front of the Ear
Faded hair temple that is confined to just the front of the ear is a great look. Allowing hair behind the ear to grow a little bit longer helps to offset this look. Men who want this style need to keep their bangs trimmed and ensure that their fade is regularly touched up.
Strong lines around the face combined with a deep fade around and behind the ears help this look to stand out. Men who opt for this style and cut need to keep their face and temples incredibly clean to ensure that it looks the best it can.
Shorter hair on the head and on the beard fade easily into each other for a look that is impressive and attractive.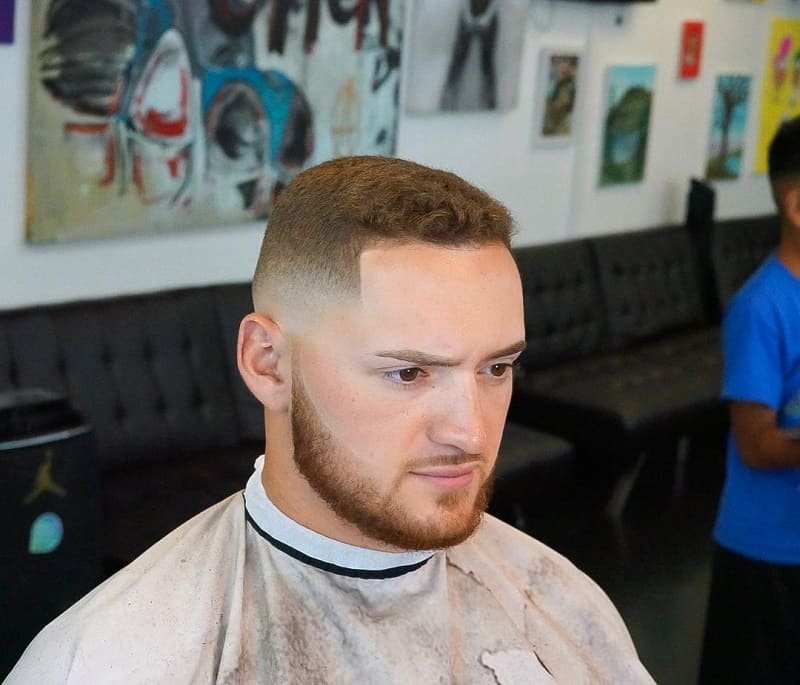 Rather than allowing there to be curls all over the head, this high temp fade style permits just a few in the front. These curls can easily fall down over the forehead, so they need to be trimmed regularly to prevent the look from being messy. A great fade on the temple offsets the motion of the curls.
Longer bangs look great when paired with a fade around the temple, especially when the bangs are neatly trimmed straight across. This prevents the look from appearing too soft or feminine and allows men to feel much more masculine when they wear this style.
A temple fade haircut is a fresh take on a traditional fade and a fun way to design a look. Men who want a fade that will look great with their face shape and style need to visit a professional who can help them create a unique look that is impressive and attractive.