Mens burr cut haircut normally is categorized as military hairstyle. The reason is mainly because of its convenience. It is easy to do – either by yourself or someone else. Another reason is that it has a psychological purpose when entering the army, figuratively stripping the candidates of their individualities and this way promoting the 'team spirit'. By traditionally giving new recruits in the US army this haircut shortly after entering the boot camp, they give them the 'rite of passage'.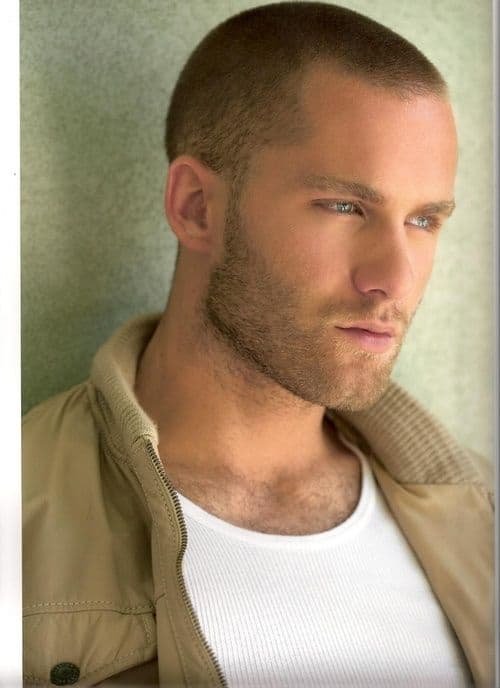 Usually in the military, the higher the rank, the longer you're allowed to wear your hair; furthermore, the more you spend out on duty and in the battlefield, the shorter your hair will be in order to avoid potentially-catastrophic scenarios.
Mens Burr Cut haircut is clipped with a guard number of a one or a two, which means that your hair will end up being about 1/8 of an inch or so. It clips all of the head with the same guard number. You will only need a hair clipper for the Burr Cut, so I suggest that you invest in a high-quality hair clipper as low-quality hair clippers break easily due to the overheating that occurs from buzzing the hair.
FC Barcelona goalkeeper Victor Valdes is known for sporting a Burr Cut.
There are 12 military hairstyles for men that have been used in the military for decades:
Induction Cut
Burr Cut
Butch Cut
Regulation Cut
Fade
High and Tight
High and Tight Recon
Crew Cut
Ivy League Cut
Flat Top
Brush Cut
Undercut
The Burr Cut is an excellent summer short hairstyle that I recommend to you if you'd rather be cool and fresh when the temperatures are absurdly hot!
Check out examples of men's burr cut haircut below: