Shaved head designs are in style and they're a great way to show your individual creativity and to make your hairstyle unique. Barbers around the world have specialized in these designs and we owe hair art to them.
If you're looking for something new to try or if you want to make your hairstyle unique or make a statement, a hair design is definitely the way to do it. Your hair will grow back, so it's not a permanent commitment.
Because there are so many different things you can do, I took it upon myself to look for 20 different options for you to consider.
Shaved Back of the Head Designs
This option is great for men who want to keep the party in the back and make an impression as they walk away. Some front or side designs can seem a bit intimidating and out of place for some men, so keeping the art in the back is a good strategy.
Plus, you have a lot more space to work on when you're shaving the back of the head, and barbers can certainly have a lot of fun with that. Some barbers take hair art super seriously and they can even recreate famous paintings like The Last Supper by Leonardo da Vinci back there. But that's too much! We're keeping it simple today.
Here are the best back of the head designs you should consider!
1. Feather Design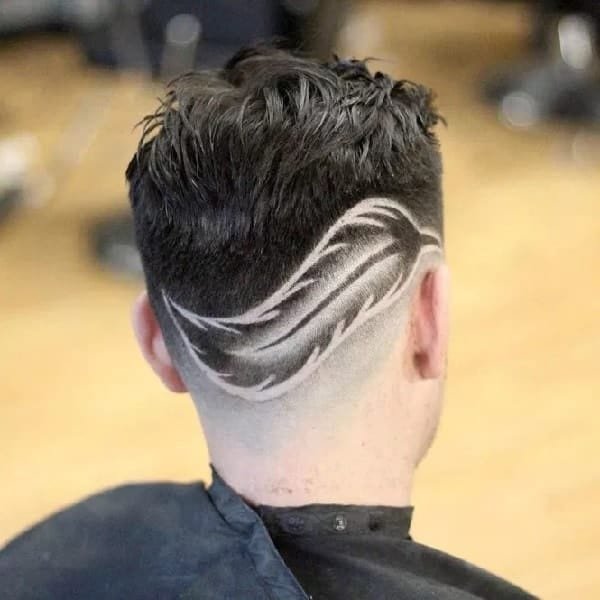 If you don't care about calling attention to yourself and you really want to try something extreme, you can go for a more complicated shaved hair design. This feather design is a bold choice and you can also try a leaf and any other thing that you find interesting and doable.
2. Funky Patterns
This is another shaved back of head design option for those men who want funny patterns without going too far. This kind of funky design combines curves and lines to make an interesting look.
The lines can be as thick or thin as you'd like and you can easily create your own design to show your individuality and uniqueness.
Coolest Short Straight Haircuts for Men
3. Funky Shaved Design with Details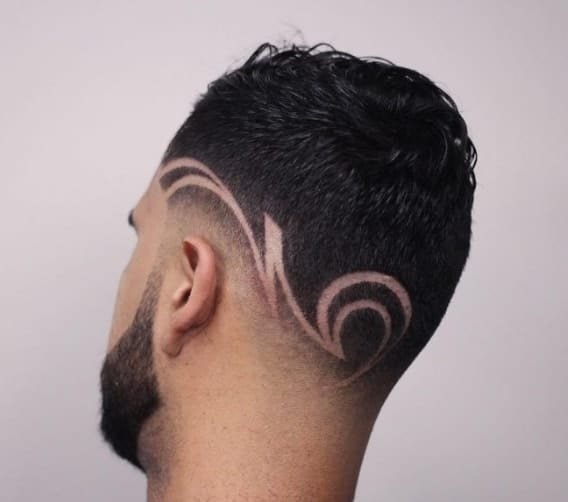 You'll find that many shaved head designs start on the sides and the finish at the back of your head. If that's something you like, you can adjust the funky style to go from your side to your nape. This design is a bit more simple than the one above, and once again the lines can be as thick or thin as you like.
4. Simple Triangle with Skin Fade
Skin fade haircut is a big part of hair designs because it brings everything together and it creates a nice, clean look. In this case, this is truly a subtle design that looks amazing in its simplicity. The skin fade adds a lot of complexity to the hairstyle and the inverted triangle looks super cool.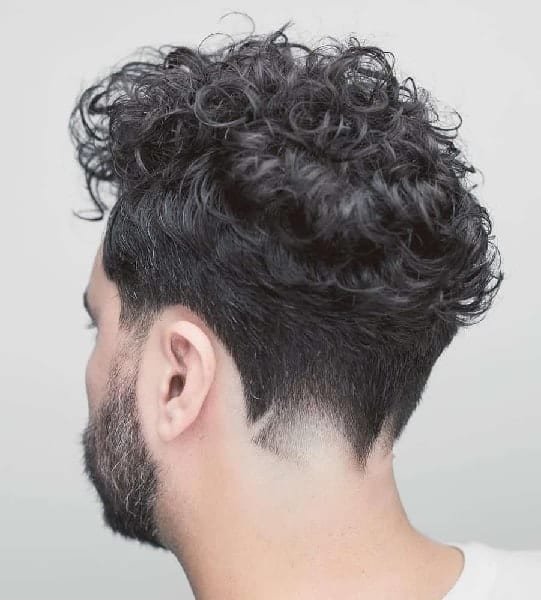 This take on the hair design is awesome and it's super subtle. They create the shapes by fading into the skin and it's a great option if you don't want your design to be simple yet noticeable.
Popular Shaved Hair Designs on Front
Shaved head designs on front are very popular and because they're right at the front, they tend to be very subtle and super straight-forward. They don't make too much of fuzz on your head and they provide that extra something to your hairstyle.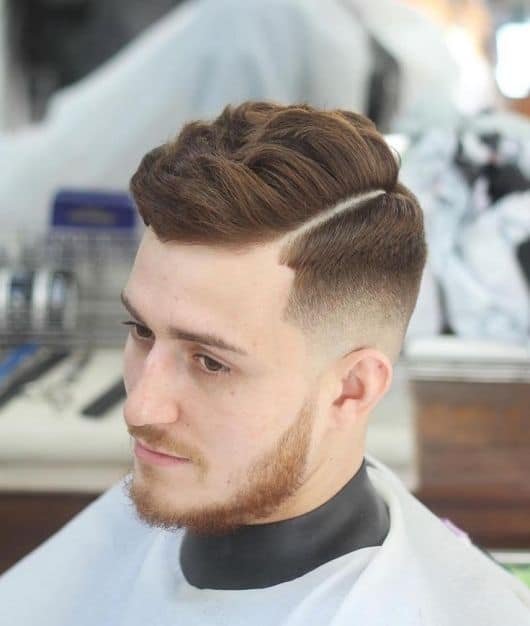 The hard part is perhaps the most popular front shaved design ever. It works on all types of hair and it makes side part haircuts look a lot more elegant and neat than they normally would.
7. Parallel Lines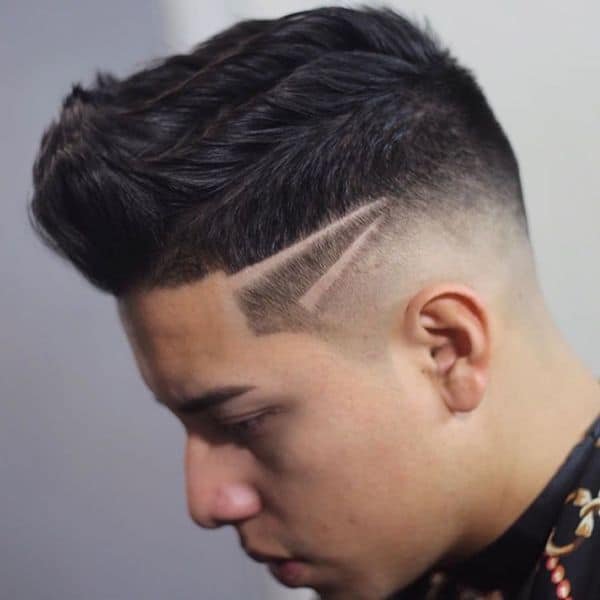 Parallel lines are a great little detail and they make for a super simple and subtle pattern. They go along great with the skin fade and they can be as short or long as you wish.
8. Side-Line Design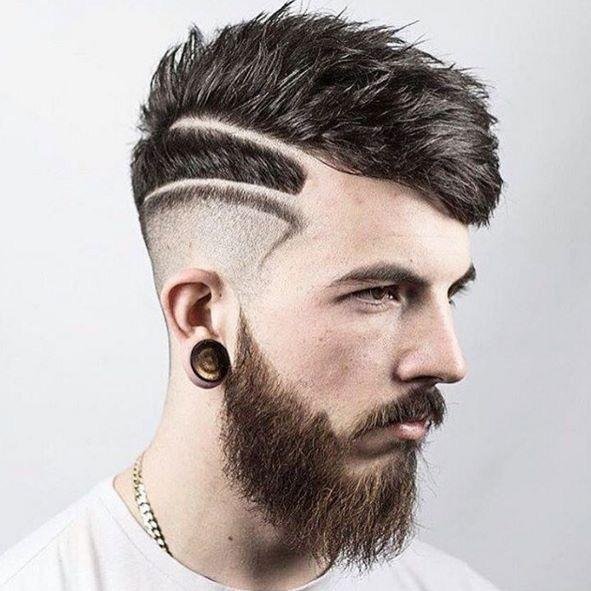 However, over the top designs are certainly a lot of fun. They're not for everyone, but if you like the idea, this style will definitely appeal to you. As you can see, this design plays with textures and it creates a very interesting contrast.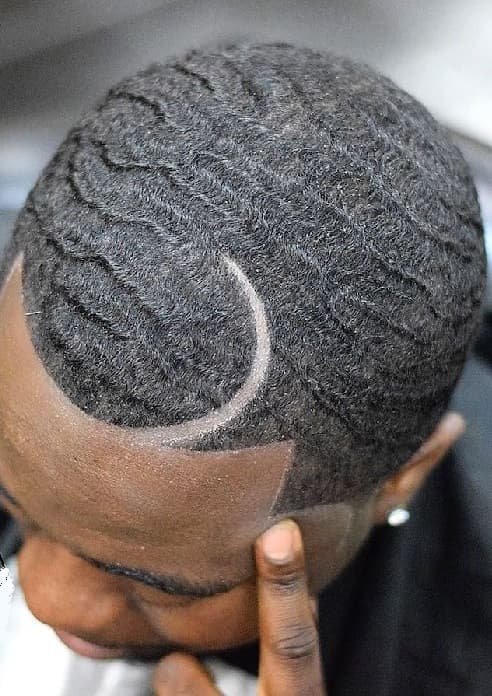 This curved shaved head design on the front is super popular among black men and it looks great on curly hair in general. It adds that little extra detail on the front and you don't need anything else to catch the eye. This design is super easy and simple and it's a nice break from straight lines.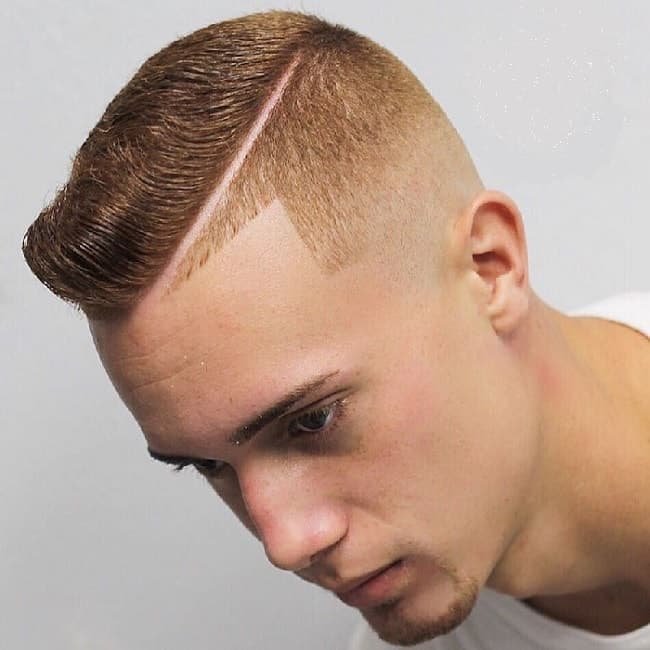 Normally, the hard part follows the line of your hair, but the straight part is a little bit more impressive because the straight line is severe and it can be as thick as you'd like to create a nice divide. Couple it with skin fade, and you'll have a detailed and elegant hairstyle.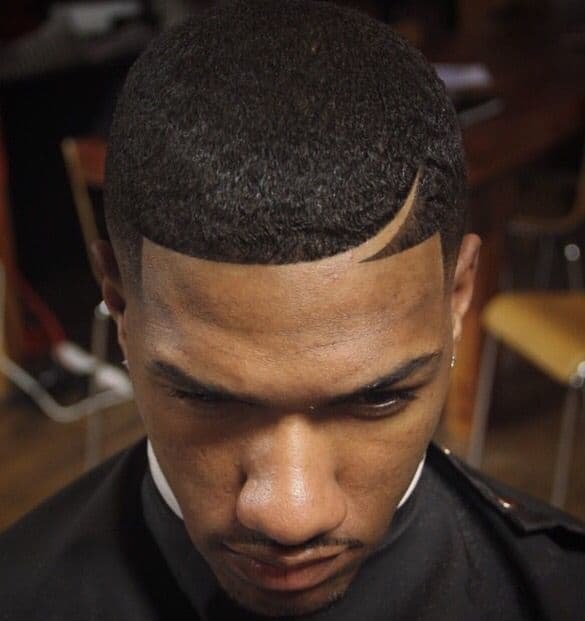 We already saw the curved design, but this time the curve is smaller and shorter. This makes it more subtle and simple but it still adds that little something extra to your hairstyle.
Trendy Side Shaved Designs for Guys
Side hair designs are super popular and because you're working with the side of your head, you have a lot of room to try different new things. Here are some of the best hair designs for you to consider!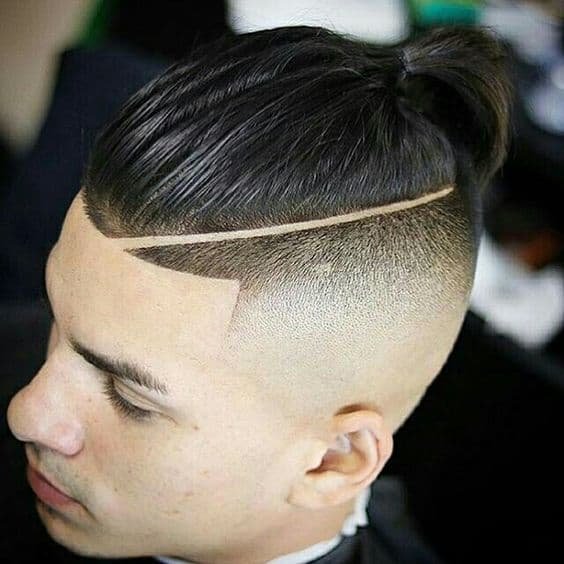 The hard line up is a common shaved design and it can run all the way to the back of the head. What's interesting about this is that you can do different things with the design of the line.
13. Floral Patterns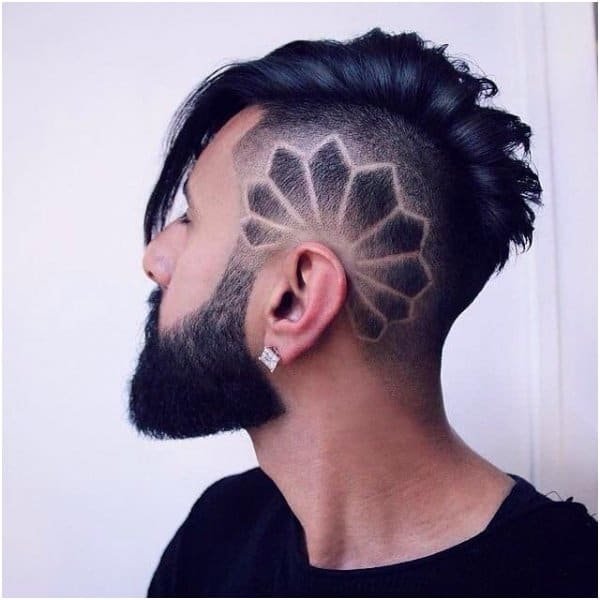 This design resembles a lotus flower and by placing it at the side of the head you get this incredible, unique hairstyle. It's elegant and cool!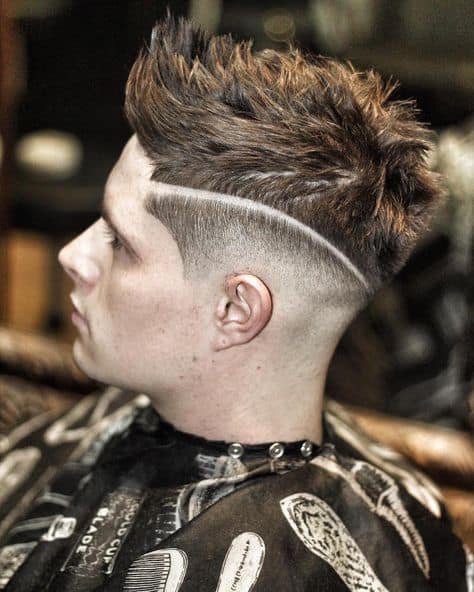 The line up is a very common choice for men because it compliments skin fade very nicely and it adds that little extra detail. The line can be as thick as you'd like and you can create a subtle curve as well.
The double curve creates a nice little effect and it looks incredible. It's a neat and elegant pattern and you simply can't go wrong with this one.
16. Line Up with Parallel Lines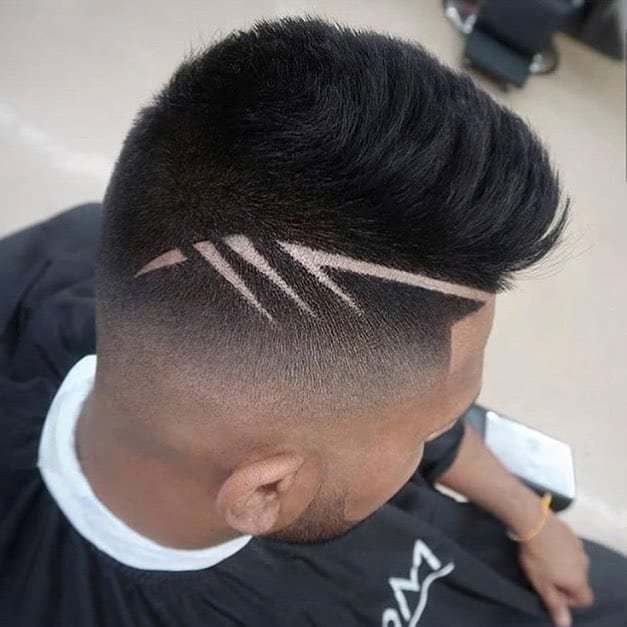 The great thing about the line up is that you can add details to make the design more complex. In this case, you can incorporate parallel lines to make the shaved head design stand out even more.
17. Quiff + Small Parallel Lines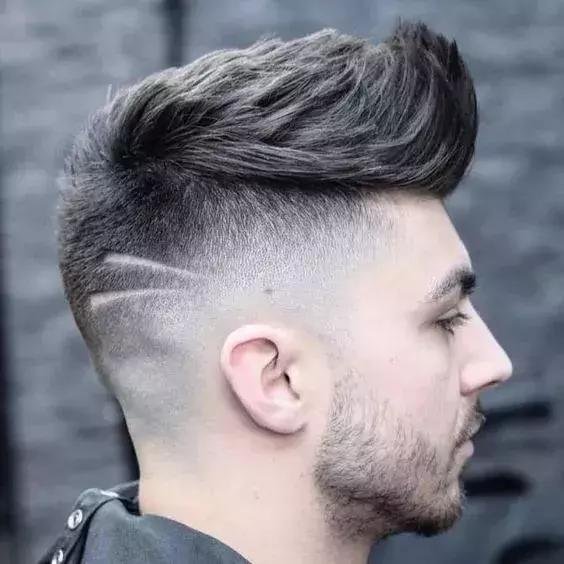 If you want to try out a hair design but you don't want something too flashy, these small parallel lines are a great idea. They look awesome and even though they're small, they draw attention!
18. Lines & Curves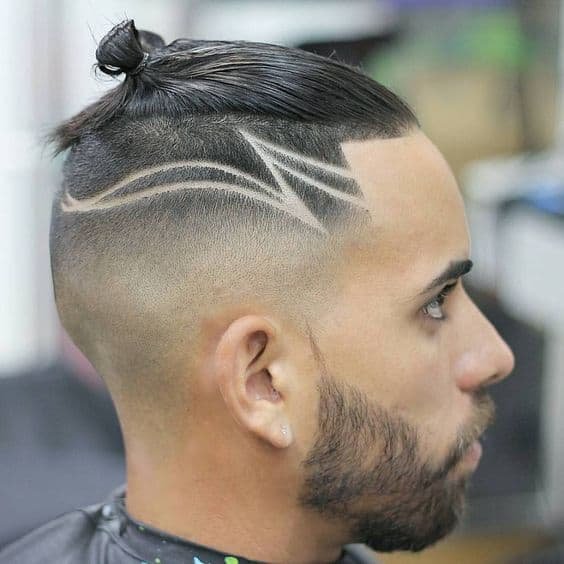 Slick back hair with designs can be a lot of fun and this one is a perfect example. This combination of lines and curves makes for a great little design that's simple yet very interesting and complex.
19. Parallel Lines with Pomp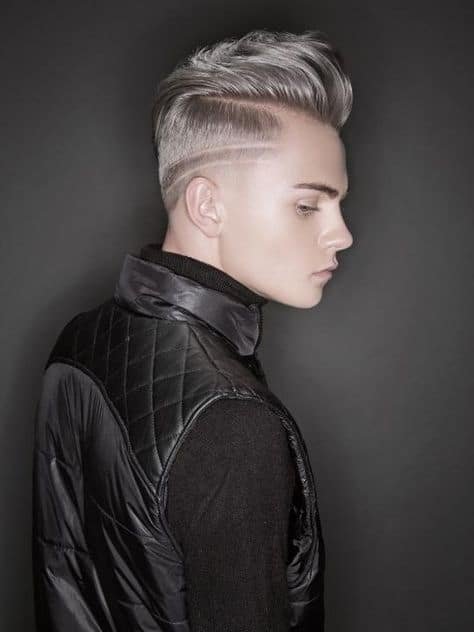 If the curves are too much for you, perhaps you'll like the parallel lines that go downwards on the side. This is a great design on side shaved hair and it also looks very elegant and cool.
Arc designs are very interesting and they are a great option for men who like simple and subtle designs. It looks great with skin fade and it's a fun option for you to consider. This shaved head design can compliment any haircut and it looks great on all hair types.