The pompadour hairstyle goes back to the 1700s and takes its name from Madame de Pompadour, notorious mistress of King Louis XV, who popularised the look with fashionable women of the 18th century. Yes, women. In fact, the pompadour remained a female style up until World War I. Only in 1950s The King of Rock and Roll made the look part of his signature style and the legacy of the pompadour hairstyles for men were cemented.
There is no doubt that the mens pompadour haircut is the hairstyle of the year. You will see everywhere, with many styles and lengths. Many celebrities such as David Beckham and Justin Timberlake opt for this look.
To achieve this look you have to tell your barber to cut your hair only with scissors instead of using clippers. The main point here is to keep the top longer and then you can adjust the sides whatever you like. This look is perfect for someone with a round face as it elongates your features and makes you look slimmer, especially if you have the sides really short. The cut with the super short side gives you an edgy military kind of look. If you have curly hair and think this slick look will never work for your hair type, try using a keratin.
How To Style:
Make sure that you have everything that you need. Of course, your hair must be long enough for the look.
After fully drying your hair in the direction you want it to be with a round brush, get about two fingertips of pomade, spread it on your palms and fingers and run it through your hair.
Comb your hair back with a fine comb or a round brush. You can comb up a nice tall pomp or a lower-profiled side-part. The hair has to be combed toward the middle of the head to create body and hight, and slicked back pretty hard on the sides to the back, independently of the front and top.
Apply your hairspray to make sure the style stays perfect all day and there you have it!
Mens pompadour haircut is a look that's vintage but not dated, classic but also edgy. Girls love a pompadour that looks more rebellious and rock and roll, which will win you points.
Ready to take the pompadour plunge? Check out examples of mens pompadour haircut below:
Classic Pompadour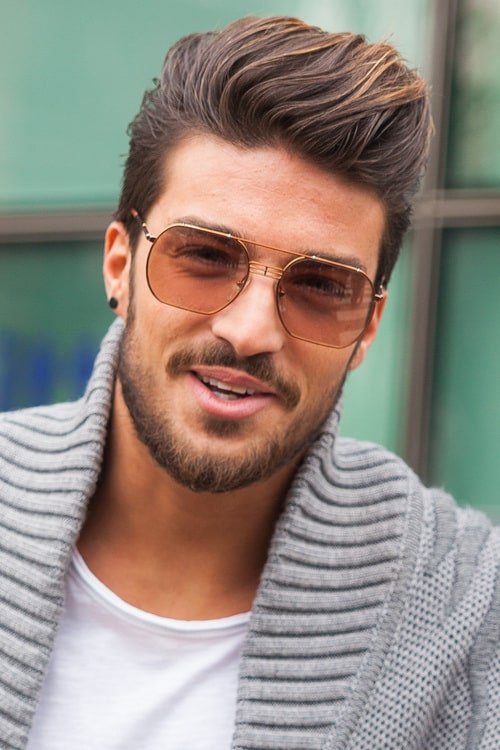 The pompadour is a classic men's look that will never go out of style, it is perfect for formal and casual occasions.  The look works best when styled using a texturizing pomade. The pomade will help the hair achieve the desired finish.