Once upon a time, back in 1920s when none of us were even future human projects, men would slick their hair back so as to look like men. A business suit combined with polished shoes and slick back hair styles, all blended with a calm, noble, mannered and charismatic personality was called "gentleman look".
The only thing to remember is to avoid cutting your hair too short (you won't be able to slick it back) or letting it get too long (you'll come off as creepy rather than classy). The perfect length for the mens slick back hairstyle is between 4 to 6 inches long, such a hair length range is classified as a medium to long length. If you have a wavy hair type you need a very strong pomade to hold the hair in place.
The defined angle is another style where you part your hair on one side of the crown. Depending on where you decide to place the part, you can create a number of different looks. With additional hair product and carful hair removal, you can create points and circles in your hair as well as better define your scalp. Today slick back hairstyles for men are the most popular because there is so much you can do with it.
The mens slick back hair style is a brilliant styling option if you want to exude a classic look while keeping your hair at a medium length. As a hairstyle for an office setting, the slickback hairstyle offers a great alternative for those who want to still rock outside of the workplace but still keep a neat look during working hours.
The slicked back hair look provides a number of opportunities to look cooler and stand out. With relatively little work every morning, you can keep this style for the rest of the day. In addition, the mens slick back hairstyle look can be worn in any setting. Finally, it looks cool even regardless of the shape of your head.
Check out examples of slick back hairstyles below:
Layered Slick Back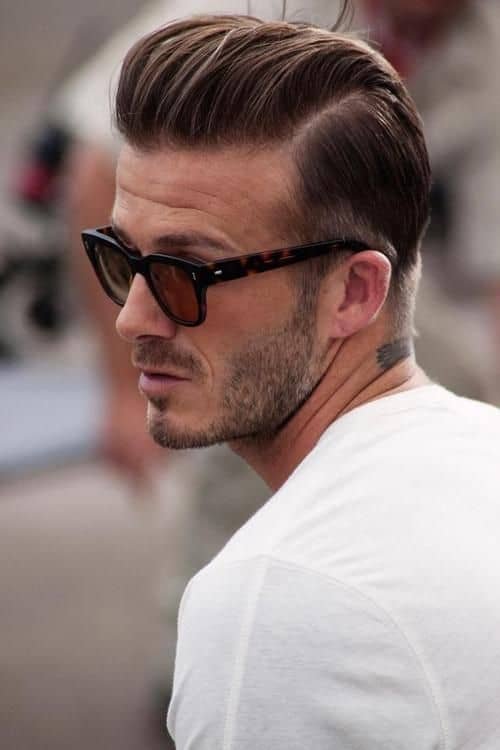 The slick back when perfectly layered like this can be split into very sophisticated parting, styling will require the use of pomade.  The hair needs to be cut in immaculate layers to achieve this styling, similar to a pompadour this variation of the slick back features high volume on top and low volume on the sides. This makes the look perfect for men with round faces.