Mens ponytail hairstyle has long been a symbol of a signature lifestyle popularized with extreme sportsmen and surfers, it has been creeping into mainstream media and can now be seen on actors and models.
If you want to add a new style to your long hair repertoire, try the half ponytail. Once one of David Beckham's favourite hairstyles, this haircut works well for chin length hair. It can be seen on Jake Gyllenhaal, Charlie Hunnam, and even Leonardo DiCaprio. Wear it messy or even a half man bun. Whatever you do, this rugged style looks great and keeps you comfortable.
How to:
Section your hair into two parts.
Take the part of your hair above the ear and brush it with your fingers.
Then tie them up.
Leave the lower section as it is.
You are ready to rock your day with this super cool look.
Tips to grow a long hair:
Growing hair starts from the roots – which means that taking care of your scalp and the roots of your hair can stimulate growth.
Apple cider vinegar works wonders on hair, skin, and many health ailments and it helps to stimulate hair growth.
Use a deep conditioner to repair your hair follicles will increase hair growth over time.
Egg whites and aloe vera have been used in hair for centuries. They add moisture to hair, giving it a healthier appearance, and also help to stimulate hair growth.
The onion provides nutrients that help with hair growth while adding shine to the strands.
The mens ponytail hairstyle will keep your hair out of your face and also keep things interesting. Back comb your hair and make a loop in the ponytail.
There are different types of ponytail hairstyles for men:
Statement ponytail
Half up half down
Braid-a-tail
Horsetail
Top-knot
Messy low ponytail
Top braid ponytail
Side braid ponytail
Samurai man bun
Thinking of trying out long locks? Try one of mens ponytail hairstyles below:
Long Man Bun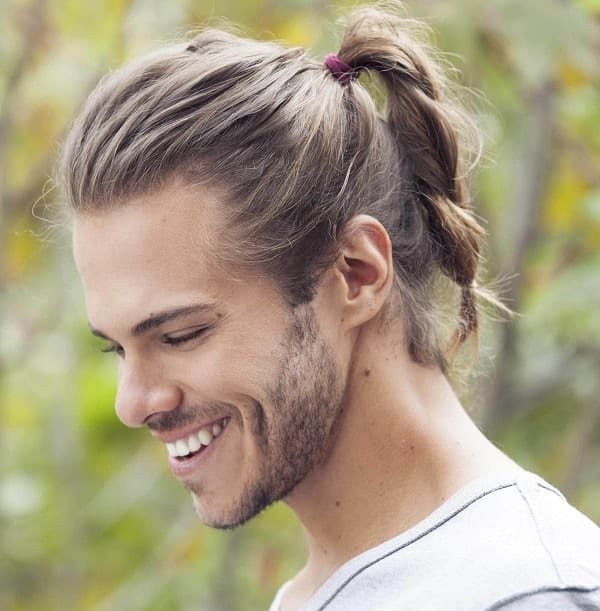 The man bun is a trendy hairstyle among men with long hair. The hair is tied into a bun at the back of the head, and the style is usually coupled with a beard