Punk hairstyles usually represent an entire subculture. Many guys love punk fashion and adopt different funky hairstyles.  If you're one of them, follow these latest, creative and sexy ways to style your hair in punk ways.
Classic Punk Rock Haircuts for Men
If you are looking for some unique funky hairstyles, try these punk haircuts with long, short, wavy, straight and all hair types.
Zayn Malik is known for his short hairstyles and crew cuts and is not new to hair dying. Military cut with acid green hair dye gives a very cool look. In buzz cut, the hair is cut short into equal length all over the head. Hype up your hair game with this punk style.
Mohawk mullet is a combination of two of the most famous hairstyles of the 80s. This powerfully sexy hairstyle is achieved by combining sharply short sides with long top locks.
This punk rock hairstyle gives a somewhat rebellious look and therefore, needs special attention while carrying.
Dreadlocks make a style statement of their own. This is a very bold hairstyle and has a special appeal. Especially men with thick and messy hair can greatly pull this unique look. Pair it with a neck beard and you are good to go.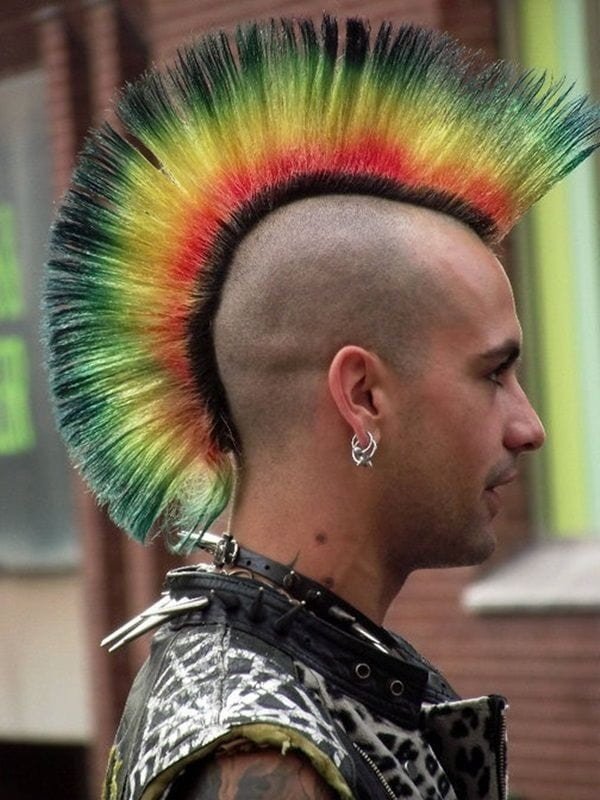 Things have gone beyond getting a mohawk. Shaved sides with a long mohawk on the top running back till the neck is the hair cut you need. Next step to add a punk effect is to dye your hair with funky colors like red, yellow and green.
5. Greaser Hairstyle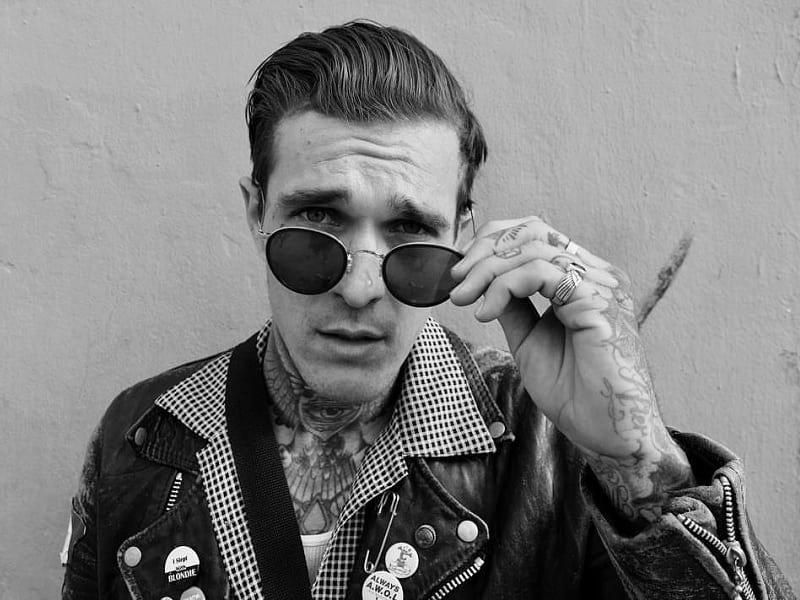 Greaser looks have been more popular among the youth in the United States. Greaser hair with leather jackets and bikes is a combination we all are familiar with.
In this, all the hair are combed into a pompadour and slicked back by using a glossy pomade. This is an evergreen style usually adopted by young bikers for a rebellious look.
Bowl cut sounds 'not very punk' and misfit to our topic of interest. However, this new bowl cut with tapered sides and asymmetrical fringe is an entirely different kind of punk hairstyle.
For an added hype, pair up this hairstyle with a light mustache. This style is ideal for those who want a low-maintenance yet stylish hair.
7. Emo Hair
All of us know the emo bangs hairstyle. This style was once a buzz style in the fashion industry. However, adding a few new twists to this style has let it jump back.
Messy emo bangs is an entirely new look you can carry especially if your hair is not sleek enough for a usual emo hairstyle.
8. Dyed Long and Wavy
Having long and wavy hair is no more a mess. Rather, those with this hair type have edge over the others and can pull off the punk haircuts better than anyone else. Leave your hair open and messy get caramel streaks for an accentuated look.
This style will go really well on loose curls as well. An additional benefit is that it is an easy-to-get and a low maintenance look, ideal for the minimalists.
9. Punk Hair Tattoo
Hyping up your tattoo game, get a temporary hair tattoo. It is less hassle and adds uniqueness to your overall look. Get your shaved sides and draw a tattoo of your choice.
Teenagers pull of this style really well. Moreover, since it is not permanent, you have a chance of self-experiment without the need of expert supervision.
10. The Devil Lock
The devil hair is a very evil, cool and creative look to carry. In it, all the hair are slicked back while the front lock is drawn down and straight over the middle of the forehead. This short punk hair look is just for the bold men to carry.
11. Viking Hairstyle
Viking hairstyle adds an entirely new dimension to your look. Long black hair made into an undercut and pulled back into a tight ponytail handing over the shoulder make a very effective hairstyle. Paired up with a beard, this hairstyle does wonders to one's looks.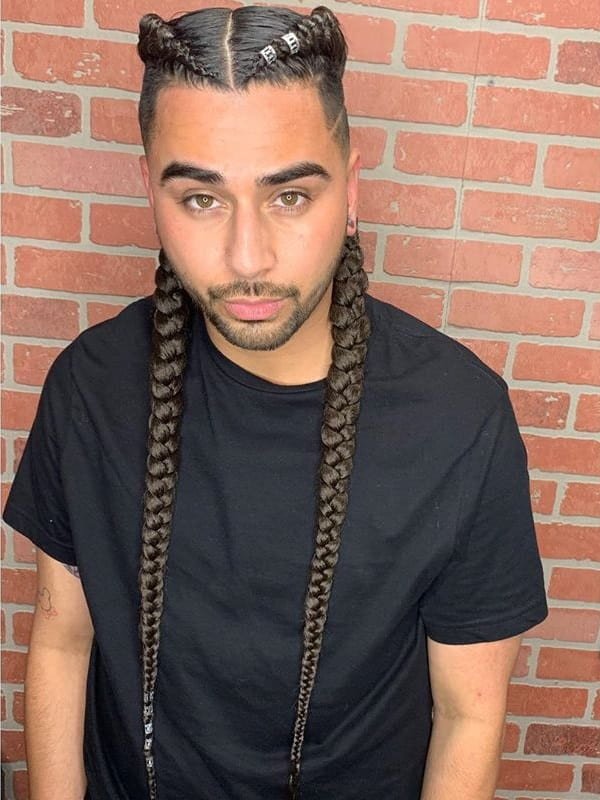 If you have silky long hair and want to try a new hairstyle, this punk rock look is the perfect option. Center part your hair and make two long braids. The type of braids depends on your choice. Shave your sides for an added effect.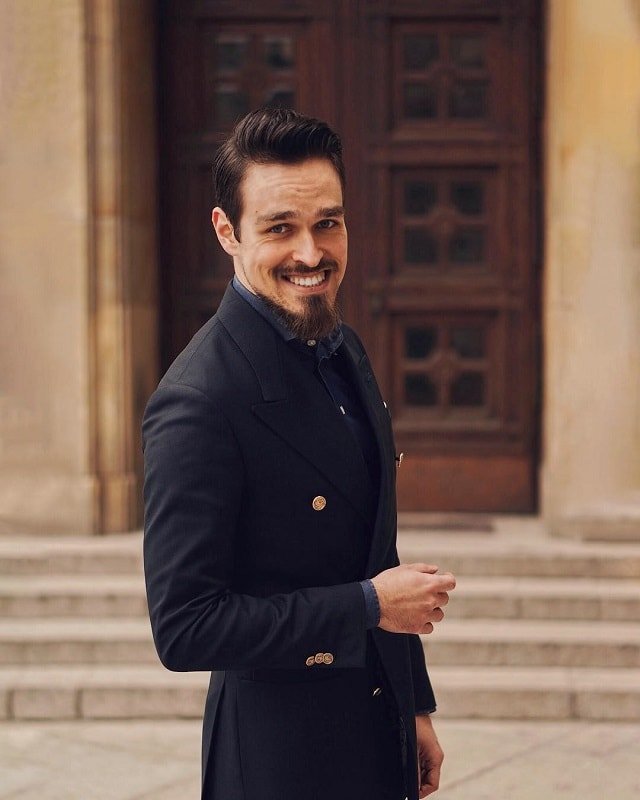 Side parting looks punk as well as decent. A neat side part with combed back hair paired with a goatee and a suit is a perfect look for your formal meeting.
Long hair is not just about growing them rebelliously long and rough. Trimming them regularly and using good quality hair products for added texture and shine can take your style a long way. Leave the locks open and slay!
Man-bun is yet another bold and punk hairstyle. If you have thick and heavy hair that grows really fast, making a bun out of them is the best way for style as well as convenience. Tie all your hair in a bun on the top of the vertex or on the back of the head.