Today men are becoming more and more aware of their looks and fashion isn't only for women. Despite the huge popularity of man bun and different mens long hairstyles, mens short hairstyles remain the "reigning kings", because of their precise styling.
Choosing the best short hairstyles for men can be tough and time-consuming.
Well-groomed gents like experimenting with styles, and products more that ever before. Believe us, there's much more options to style a short haircuts for men than meets the eye especially if they have a modern touch.
Short hairstyle means more visits to the barbershop to keep it in shape so booking appointments for two-three weeks ahead is a good idea.
Unfortunately most men don't have a regular barber and end up each time with a different style and even forced to explain over and over again how they'd like mens short haircuts done. But more frustrating when the new barber tries to correct what they see as mistakes that a previous barber made. So going to different salons is not a good thing if you're trying to maintain a consistent image.
Having a regular barber means you get a consistent, sharp and modern short hairstyle with every visit. Very interesting fact – professional barber has a memory of elephant and after the first visit he'll become familiar with the many contours of your head and the complexities of your hair and will know how to cut your hair just the way you want it. And remember, barber can become a good friend with many connections.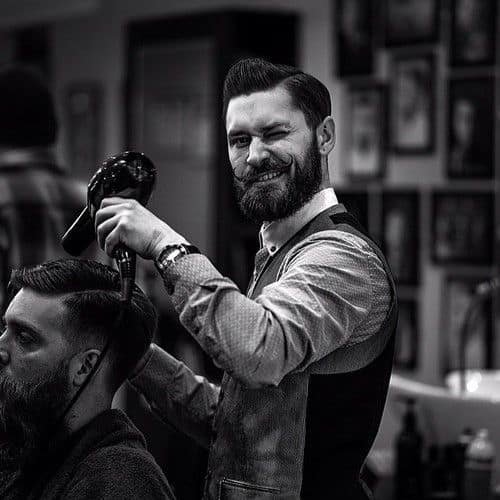 So how to find a good barber?
The first thing you should do is ask people you know for recommendations. After check out what the web has to say as well as a strong social media presence.
Then find a confident barber who will look you in the eye, smile, and give you a firm manly handshake when you first walk in. A queue around the block is also a good sign.
Talk to the barber about styles that appeal to you as a good barber will adapt best short hairstyles to his clients. Also he will tell what would work best depending on a face shape and hair structure.
If you're looking for a specific cut, ask the barber if he has done it before because not all train in the same cuts. Super cheap salons are usually only trained for a standard buzz cut. Nothing more.
Check his personal grooming and clothing. A good barber takes his personal appearance seriously because he's in the business of helping men with best short haircuts and personal image.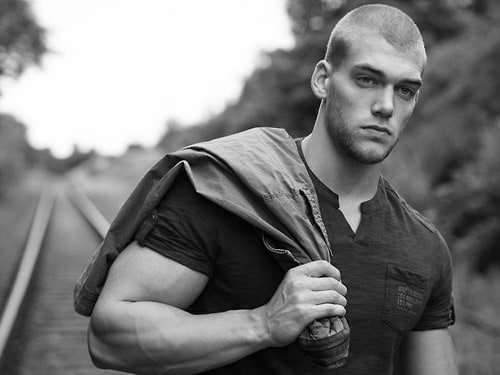 Short hairstyles are popular and require low maintenance
If you ever got new mens hairstyles or transitioned from a long haircut you know how much of a nightmare it comes with reinventing your look.
Super short hairstyles often called military haircuts, this is popular and wearable low maintenance style, so if you want a fuss free look that requires practically no styling then it's you go-to cut. This guys haircuts keeps you cool in hot climates.
During summer time a buzzcut style used very often but it can be referred to butch, burr, brush cut, and crewcut. Mens short hairstyles give a neat and clean look and sometime mean much more than outfit. Moreover they are quick and easy to wash and style, but they can be styled in absolutely different ways.
Remember very short haircuts won't suit everyone, those of you brave enough to go ahead with it should have some idea of what you're going for.
If you want to go with more popular mens haircuts you can try high and tight cut. It has a hair slightly longer on the top and buzzed on sides. This cool mens haircuts work well with straight hair – if your hair has a natural wave it will not naturally slick back.
Quiffs and fade haircuts are among some of the most prevalent with different variations of each cut fluctuating in popularity.
Just because you have less hair, does not mean that all these short formal hairstyles will have dramatically less styling time. You might even be surprised to find that some can actually take longer, but do not let that put you off.
Rules for healthy hair
For the true gentleman, hair is a very important characteristic and in most cases, is properly cared for the same as any other accessory wore in public.
Get your short haircut trimmed up every two weeks.
Use quality hair products.
Wash and condition your hair once every three days.
Don't use too much hairstyling products.
Stay away from the bargain bin slice shop and stick with the salon.
Work with your hair and pick styles that compliment its natural flow.
And what about celebrity short hairstyles?
What looks outrageous one year, takes supercuts by storm the next. If this year Chris Hemsworth is in spotlight with Thor, next year Sylvester Stallone promotes military haircut with his Expendables team. From man-bun to buzz-cut, from rocker-wild to corporate-slick, trendy mens short hairstyles come and go with a speed of light.
Channing Tatum has sported a high and tight style and made it looks masculine, easy to take care of and fairly simple to pull off. Liam Hemsworth prefers a bed head cut which can be styled with a small amount of gel.
On the other hand, Chris Pine prefers professional comb over, it works good for his role as Captain Kirk in the Star Trek. Chris Evans for his role as Captain America chooses classic short hairstyle parted to the side.
Most celebrities have an armada of stylists that help them look a certain way. It's all about image management in Hollywood. If you think just the female stars have helpers you might want to think again. Remember, getting short haircut that fits your lifestyle is more important than achieving a certain look of your favourite actor.
Types of mens short hairstyles
It is impossible to give an accurate number of stylish mens haircuts for short hair types since new ones are always being invented and old ones given new twists.
However, here is the list of most popular mens short hairstyles:
Fringe
Quiff
Military Haircut
Pompadour
Cowlick Cut
Short Back and Sides
Undercut
High and Tight
Tapered Skin Fade Cut
Crew Cut
Fade Haircut
The Ivy League
Short Afro
Short Fauxhawk
Work with your hair and face shape rather than against it. By choosing a cut that doesn't suit your hair type, length or face shape, you're setting yourself up to fail and in the process, look ridiculous with crazy hairstyle.
Mens short hairstyles are suitable for home, work, leisure, and gala events. This explains why many men will stay with them for many years.
Just because a style looks good on someone else, doesn't mean it will work well for you without some serious commitment. If you're going against the natural hair then you have to realize you may have to blow it out or use a flat iron or a wave iron.
Whether you like the comfort of the familiar hairstyle or the thrill of experimentation, we hope you will find new mens short haircuts trendy. Also you may rediscover how practical and appealing they can be.
Summarizing, nothing quite beats images when it comes to some hairspiration.
Take a look at latest mens short hairstyles below:
Side Part Taper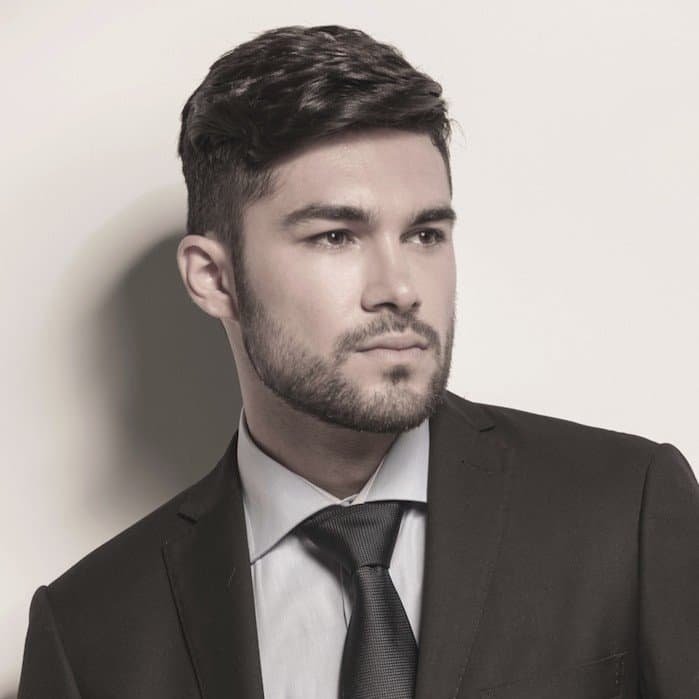 This hairstyle features an even-sided taper, with a traditional side part on top. The style is best suited for men with square or diamond face shapes.